Build a Customer Centric Marketing Strategy
Customers are everything to your business, and your marketing should reflect that. If you need to market your business or service, but you're not sure where to start, consider implementing a customer centric marketing strategy.
Ease your customers' minds and assure them you're here to look after their needs and interests.
What is Customer Centric Marketing?
Customer centric marketing is a marketing approach that emphasizes the customer over all else. It places customers' needs, interests, and preferences at the forefront of every interaction with your business or brand. Within this framework, focus is placed on the customer experience, and ensuring they walk away with a positive opinion of your business.
Understanding the Customer
To best serve your customers, you need to walk in their shoes. It's important to understand how your business or service is perceived from the customer's point of view. Just because you know your business inside and out, doesn't mean the market does.
Over time, it can become difficult to evaluate your business and industry objectively. Take inventory of your existing marketing collateral. Is your website easy to read and navigate? Is your business or service clearly conveyed? If you're utilizing social media, is your content relevant and helpful?
Ask family, friends, or new hires unfamiliar with the details of your business to review these aspects of your business and ask them simple questions:
What does my business do?
Is my website easy to use?
What feeling does my website convey?
What makes my business feel different?
Getting snap judgements from a fresh set of eyes is invaluable to understanding customer mindset. These evaluations can point out gaps in your marketing funnel and new opportunities to capture market share.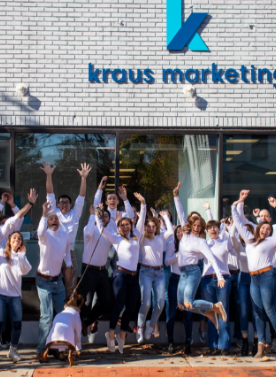 About Us
Full-Service Marketing Agency
We are a full-service digital marketing agency looking to take your campaign or project from concept to finished product, assuring no detail is overlooked along the way.
Customer Service is Key
Customer service is a cornerstone of the customer centric marketing philosophy. You want new and returning customers alike to have a positive experience with your business every step of the way. Here are some ways to implement customer-centric customer service:
Cater to Communication Preferences
If customers find it difficult to get in touch with your business or are forced to do so in a way they find inconvenient, they're not likely to return or refer others. Customers should be able to communicate with your business in any method they prefer. Whether it's phone, email, text, social media, or online chat, try to offer comprehensive communications options.
Ask Probing Questions
You gain valuable data about your customer base when you ask probing questions. What are your customers' concerns and hopes? Listen to the goals customers are looking to achieve in reaching out to your business and identify needs that aren't being met. Make note of reoccurring problems to glean useful marketing opportunities. Meaningful conversations indicate to customers that you're attentive and customer-focused.
Offer Solutions
Rather than focusing on the sale, focus on the customer during every interaction. Whether the customer's needs can result in a sale or not, offering solutions builds loyalty and trust. If a potential customer's needs would be better met by a different business, refer them. If the customer can solve their problem with their existing resources, let them know. While potentially losing an immediate conversion, you are building confidence in your brand that money cannot buy. This type of customer service results in limitless inbound referrals.
Check out some of our most eye-catching and campaign driven pieces in our established portfolio.
Content Marketing
As a professional in your field, you have a wealth of useful knowledge. Customers rely on your industry experience and know-how to find the ideal solution to their problem. Leverage your expertise in the creation of content marketing materials to provide value to potential and existing customers.
Content marketing is one of the most effective ways to build a rapport with your audience and can serve as a key pillar of your customer centric marketing strategy. Using the information you've gathered from your customers, create helpful content addressing common questions, issues, and concerns among your audience.
Blogs, articles, videos, and social media content act as a great introduction to your business. If customers find their first interaction informative and helpful, you've already forged a powerful connection and positive brand association. Find which content marketing strategies work best for you, your customers, and your business to increase your inbound leads and improve customer experience.
Let Kraus Guide Your Customer Centric Marketing Campaign
Interested in building a customer centric marketing strategy, but need some assistance? Kraus Marketing is a digital marketing agency with offices in NJ, NY, and FL. We're experts at web design, content marketing, social media strategy, and everything in between. Contact us online to learn more.