Social Media
A Top Social Media Marketing Agency Reaching NJ, NY, FL, and Beyond!
I'm Thinking About Jumping on the Social Media Bandwagon… Social media marketing is a powerhouse technique used to build awareness with your targeted audience. Allocating money towards paid social media efforts, as well as understanding how to create an organic following are two key factors in creating a successful strategy.
Did You Know
The rise of social media over the years has proved that it is here to stay, as its user statistics continue to rise. Did you know that:
3.2 billion people use social media every day
73% of marketers believe that social media marketing has been "somewhat effective" or "very effective" for their business
54% of social browsers research products on social media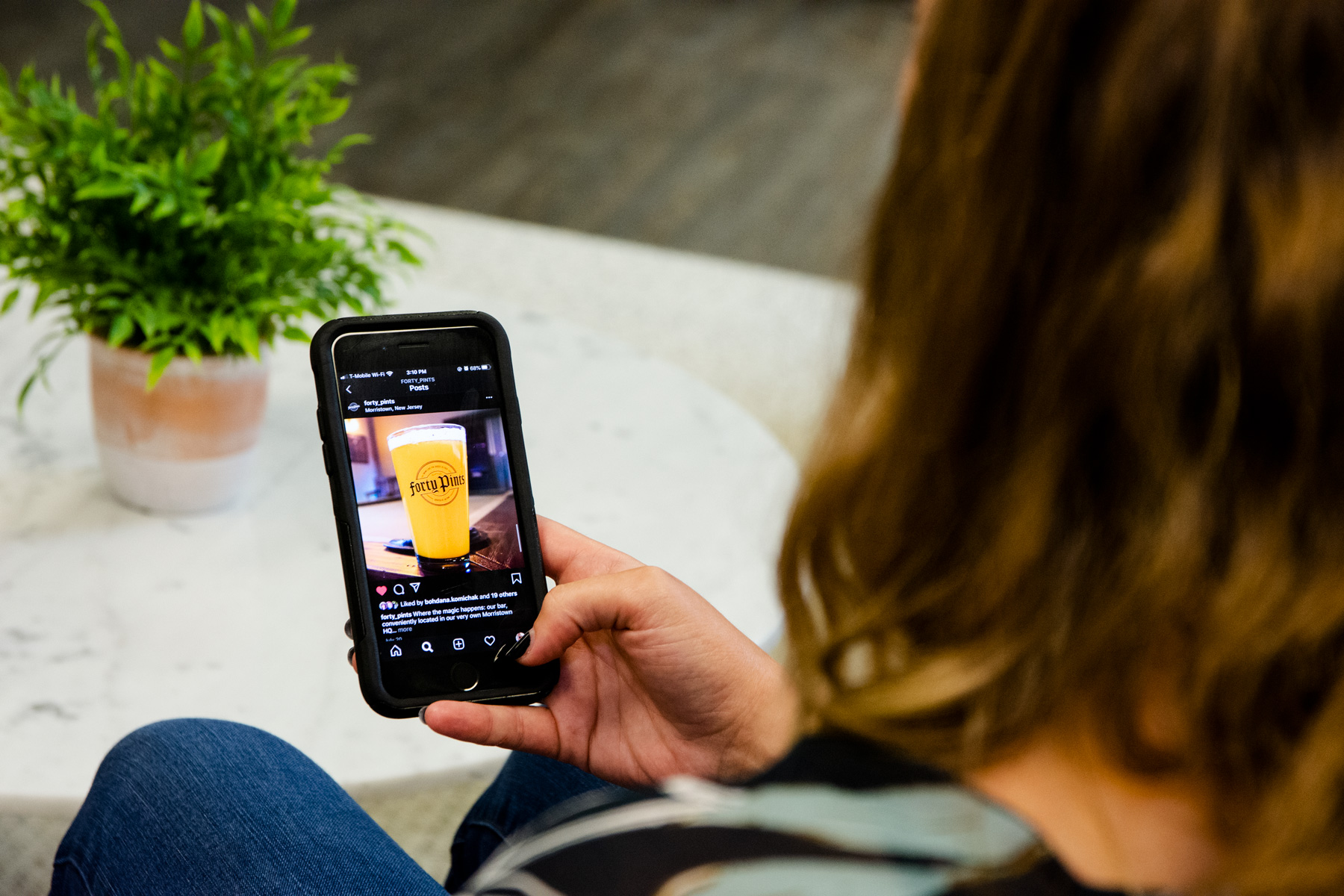 Target Your Audience
As a top social media marketing agency, Kraus Marketing is here to help you with your social media marketing efforts, which include content creation, strategy, and analytics tracking. We understand the importance of harnessing the most powerful marketing tools available, elevating your brand awareness to new heights.
Use The Right Tools
You may feel pressured to join every available social platform, but keep in mind which channels would best appeal to your target audience. At Kraus, we strategize what platforms are right for you and what ad spend should be behind each campaign. Below are several of the most commonly used social media outlets for our clients.
Facebook Marketing Strategy
With Facebook boasting a whopping 2.414 billion active monthly users, what better place is there to market your business?
This platform is continually updated with new features that allow for diversity in content sharing, like Facebook Marketplace, Facebook Live, and stories.
As a business owner, you have more than enough to worry about. Your priority is to increase awareness, build brand value, and generate leads. This is where Kraus comes in.
We understand how important it is to craft the perfect, shareable message, and how to designate the proper ad spend behind it, increasing impressions and engagement. We'll stay on top of Facebook's updates and learn how to utilize them best for your business.
Using Facebook's Re-targeting Pixel to Increase Conversions
Facebook's advertising suite includes sponsored posts, scheduled ads, and even allows for re-targeting. So, what exactly is re-targeting? Have you ever been spooked to find the same item you were just browsing in ad form on another site? This is not mystical computer sorcery, it's re-targeting.
Facebook provides a pixel code, which we then place on your website. When someone visits your site, that pixel ends up on their browser.
When they leave your website, they will still be shown ads for the products or services they were viewing. This is an invaluable tool to help keep you on your customers' radar. If you don't have re-targeting set up on your website, you may be losing out on some easy conversions.
The only way to know how well your marketing strategy is performing on Facebook is to measure multiple campaigns by implementing A/B testing.
It is important to measure ROI and KPIs. KPIs should be set up to match your original goals. For instance, if you want to increase brand awareness, your KPI would be Facebook page views and traffic to your website. If you want more business, you should track conversions and leads due to Facebook advertising.
Let us take the lead in implementing effective Facebook marketing strategies for your business!
Instagram Marketing Strategy
Technology moves at the speed of light. Users face the challenge of juggling the information overload from multiple mediums, both digital and print.
Because of this, our increasingly visual, multitasking society is leaning towards interacting with short-form content that allows them to absorb more information but at a quicker pace. While Instagram may seem self-explanatory to use, there's a lot more that goes into its campaign strategies than you may think. The photo and video sharing app has over 1 billion active monthly users, sharing an average of 95 million photos each day. With the millions of photos being shared, how can you ensure that your content is being seen?
How an Agency Can Manage Your Brand on Instagram
If your business isn't on Instagram yet, consider making a move. It has the largest per-follower engagement rate of 4.21%. However, mastering the platform and gaining those engagements requires strategy.
Our team of experts here at Kraus Marketing handle all the nitty-gritty stuff, so you don't have to. The Instagram post process and overall strategy go as follows:
Objectives. You know the basic routine – set your goals, figure out why you're using the platform and what distinguishes it from others. Do you aim to increase brand awareness? Display your brand's personality or show your product? Build stronger connections and engage with your audience?
Content Strategy. What type of company are you? The answer will impact your overall strategy and content development process. For instance, B2C companies will typically use Instagram to showcase their product, while B2B companies will often share their company culture. This process will also determine what type of content you want to share. Will you stick solely with photos or expand into Instagram's other service offerings?
Theme. With all of the easy-to-use design options available, not having a visually pleasing and consistent theme is dangerous. Plain and simple – people want something nice to look at. Ensuring your theme is visually appealing by using consistent colors and images can increase your chance of accruing more followers.
Schedule. Timing can be the difference between having your post viewed by 100 people or 10,000. Kraus will create a timely content calendar based on statistics within your industry.
Advertise. Instagram offers several ways to help you get your content in front of the right audience, increasing brand awareness and engagement. For instance, re-targeting brings your business back in front of potential customers after they have left your website. Then there are Swipe Up ads in Instagram stories to help direct users right to your website with a simple swipe!
Measure results. What good is all of this if you don't track it to see how you can improve? No social media campaign is static and unmalleable. Just as trends shift and your users change, so should your strategy. Keep track of what posts receive the most likes and comments.
LinkedIn Advertising Agency
LinkedIn is used by over 562 million users in more than 200 countries.
It's considered one of the best platforms to market your business professionally. Need more persuasion to integrate LinkedIn into your marketing strategy? How about the fact that 94% of B2B marketers on social media use LinkedIn to publish content, growing their relationships and reputation as a brand?
Incorporating a professional LinkedIn profile to your business' marketing efforts will enable you to find talented employees and grow your network.
Showcase your brand's personality. Whatever your brand may be, own it. Make it unforgettable and distinct across every platform. Having a solid LinkedIn profile with creative images, links, and content is the next best thing to having a cute company dog.
Encourage your employees to interact with your page.
It's easy for potential customers to realize that a company is all talk with nothing to substantiate its claims. Inviting your employees to include information about your company on their profiles and follow your company page is a great way to allow clients to get to know your company on a deeper level. Not to mention, it's a great way to expand your company's network.
Share relevant content and engage.
There is nothing worse than an inactive company LinkedIn page. You should make an effort to update your page regularly by sharing blog posts, relevant website links, pictures, and videos. Take time to interact with your followers and respond to their comments and inquiries. Having that sense of open communication can be the difference between gaining a loyal customer or losing one.
Join LinkedIn Groups.
Take advantage of this great feature and mingle! Engaging with other people in these groups is a great networking opportunity, in which you can share your company's content, ultimately increasing traffic to your site.
Take Advantage of Ad Space.
Apart from reeling people in organically, LinkedIn also offers ad space in three formats: sponsored content, sponsored InMail, and text ads which appear on different pages throughout a user's LinkedIn session. This way, you can advertise while still providing valuable, personalized content.
TikTok Advertising Agency
Reach Users Worldwide with TikTok
Has your brand joined the fastest growing social network?
With TikTok, your company can reach new audiences through engaging video content.
While TikTok started as a dance and music app for younger users, it has since grown into a large platform for all ages—and businesses. Unlike Facebook and Instagram, it's an entirely new space to connect with your target audience through full-screen experiences. Think unboxing videos, interviews, how to's, behind the scenes clips, and more. And despite popular belief, the audience ages include all generations with 37.4% being over the age of 30.
Video content is key to customer retention.
Video content is the most captivating form of content available today. Think of consumers' shrinking attention span and the increasingly competitive market. TikTok breaks through the noise by providing a full-screen, short video experience that can put your brand in front of users who actually want to listen.
TikTok is a growing platform for B2B and B2C businesses.
Many B2B and B2C businesses have found success on TikTok. The nature of TikTok's algorithm allows small and large creators to reach new users and provide value to niche markets. By utilizing some of the best tips and tricks, your brand can make a big impact through short-form video content.
How Your Brand Can Make an Impact on TikTok:
Provide a behind the scenes look at your brand. Younger generations want to feel like they are purchasing from a business that they can connect with and find value in. What better way to nurture that relationship than through short-form video content that provides a behind the scenes look at your company culture?
Utilize UGC for a human touch. Big (and sometimes small) brands can often come across as robotic. Give your business a human touch by utilizing user-generated content (UGC). This puts your products or services in the hands of real consumers—featuring a voice and face other consumers can trust.
Create a valuable content strategy. Like any social platform, consistency is crucial. Don't overwhelm yourself by forcing content out. Create a strategic and curated content plan that focuses on providing value to your customers, which will leave them more engaged with your profile and business.
If your brand needs help with any of the above, or just needs to jumpstart their TikTok page into reality, contact Kraus Marketing right away for a consultation. Ask us about our TikTok + Video as a Service package!
With Twitter, users have only 280 characters or less to express their thoughts and opinions.
Twitter's content limit allows for users to consume more information, more quickly, transforming the platform into a revolutionary news sharing and advertising tool.
An average of 326 million people are using Twitter every month, with 80% of those users being affluent millennials and 49% of them following brands.
Additionally, 66% of people have become aware of a new business via Twitter. With these statistics in mind, Twitter's potential to reach clients and market via influencers is clear.
How Should I Use Twitter to Market My Business?
Increase your followers. Give your audience something interesting to look at! Sharing original content or using Twitter's advertising spend are great ways to gain traction and reach more people.
Search for opportunities. Twitter is a great tool to search for potential business ventures. Let's say you recently opened up a new restaurant and someone tweets "looking for places to eat."
Twitter can increase SEO. Frequent tweeting not only builds your presence on Twitter but also helps your search engine optimization efforts. If your Twitter profile is set to public, it will be indexed by Google. Including relevant information and keywords related to your business will help guide people searching for your products or services.
Easy way to reach people on mobile. Whether it's a way of passing the time on a commute or scrolling through one's feed to combat boredom, most people have their eyes glued to their screens at some point in the day. Twitter allows you to enable notifications, so every time you post a Tweet, it will get delivered to your followers' phones. It's the perfect way to keep your audience engaged and informed.
Engage. The great thing about Twitter is that it puts everyday users and businesses in the same playing field. Its capacity for interactivity allows you to speak directly with your brand's followers. Engaging with your followers brings your brand to life and creates a personality, generating trust with your audience.