How to Advertise on Instagram: Ads You Didn't Know About
Everyone has a love-hate relationship with Instagram ads. They often have the premise of "you didn't know you needed this, but now you bought it and use it every day." So, how can you get your product in front of the eyes of thousands? With Instagram ads, you can increase impressions, engagements, and conversions.
Here's how to advertise on Instagram to maximize your ROI.
What Are Instagram Ads?
Instagram ads have evolved over time to become more dynamic. Plus, there's more ads on the platform today than there were years ago. Unlike organically posting on the app, advertising allows brands to share links in-feed and through stories.
How Much Do Instagram Ads Cost?
Instagram ads cost vary significantly based on audience targeting, industry competition, time of year, and placement. However, you can set a budget to not allow your ads cost to exceed a certain amount. It's important to note that a small budget may not garner the results you're hoping for, as a cost per click rate can be high.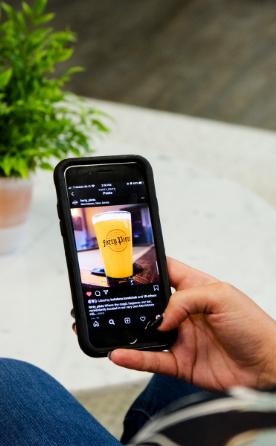 Digital Marketing
Capture Leads, Generate Sales & Find New Customers
Capturing relevant information about customers, fans, followers, and friends enable us to create more personalized interactions. In turn, we can better understand how to provide the best possible experience for our target audience.
Types of Instagram Ads
There are three primary types of Instagram ads that can be used for a brand awareness, engagement, lead generation, conversions, traffic, reach, or messages campaign.
In-Feed Ads: In-feed ads can be a photo, video, or carousel of photos that link to a specific website landing page.
Story Ads: Story ads can also be a photo or video with a "swipe up" feature linking to a website landing page. This feature is typically only available to accounts with over 10k followers, but paid ads don't follow this rule.
Explore Page Ads: The Explore page on Instagram is another location users can see sponsored posts, which look like in-feed ads, but can only be a photo or video.
Instagram's New Shopping Feature
Recently, Instagram created a "shopping" feature, which can be used organically or in an ad. This post would display a photo with a product(s) that users could tap to "view products," including pricing and a link to Instagram's shopping platform where users could make a purchase. Shopping ads can also be paired with a CTA link driving users directly to your website.
Utilize These Interesting CTA Links
While "Learn More" is always a tried & true call to action, there are more interesting ones available. Especially if your ad is sharing a unique product or tool, it's best to use a specific CTA. Here are some of the most interesting Instagram CTA links:
Book Now
Call Now
Check Availability
Donate Now
Download
Get Access
Get Directions
Get Offer
Get Quote
Listen Now
Request Time
See Menu
Try Story Swipe Ups
After about every three Instagram stories that a user swipes through, they will be shown an ad. So, the chances of your company getting seen is extremely high. If you're only using in-feed Instagram ads in your campaign, you may be missing out on a large audience.
Photo vs. Video: Why Not Both?
Instagram is traditionally a photography social platform but has recently pushed more and more for video content. For this reason, your company's Instagram advertising campaign should include a healthy mix of photos and videos. Especially for story ads, videos will make users pause at the very least before swiping.
Capturing relevant information about customers, fans, followers, and friends enable us to create more personalized interactions.
How Are Instagram Ads Created?
Instagram ads are created through the Facebook Ads Manager platform. Here, you can create and manage as well as review budgeting, audiences, and analytics. While some small businesses try to advertise on social media themselves, many companies work with a social media marketing agency who is well equipped and knowledgeable on Instagram advertising.
Kraus Marketing is a social media marketing agency servicing NJ, NY, and FL. We're experts at creating and managing social media campaigns to drive website traffic and increase conversions. If you're interested in learning more, contact us online.