3 Benefits of Harnessing Holiday Influencer Marketing for Your Brand
'Tis the season to be strategic, and marketing is the gift that keeps giving. As this year draws to a close, many brands are eager to continue maximizing their reach and keep their messaging from getting lost in the noise. Fortunately, holiday influencer marketing is a golden, gift-wrapped opportunity for your brand to work hand-in-hand with digital ambassadors, connect deeper with your audience, and have your relevancy stay evergreen. Tap into the magic and discover the generous benefits of holiday influencer marketing now.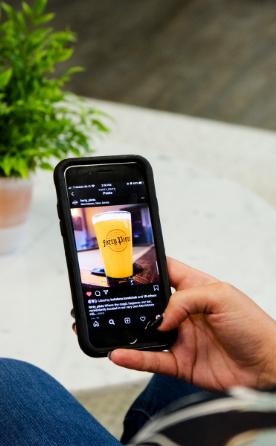 Digital Marketing
Capture Leads, Generate Sales & Find New Customers
Capturing relevant information about customers, fans, followers, and friends enable us to create more personalized interactions. In turn, we can better understand how to provide the best possible experience for our target audience.
1) Spread Joy to A Wider Audience
Influencers are the trusted allies in your brand's holiday journey. They have already established themselves as authentic voices within their respective niches, and when they share their experiences, they forge a sense of trust that is priceless. If you encourage influencers to share your tailored recommendations and solutions, this sense of community and shared enthusiasm can amplify the impact of your brand's message, generating a ripple effect of engagement and brand loyalty to a mammoth audience previously untapped.
2) Give the Gift of Authentic Content
In a sea of generic and stale holiday marketing messages, authenticity is the lifebuoy that will keep your brand afloat. When internet stars endorse your business' holiday offerings and messages, your audience will view the endorsement as if it was a trustworthy recommendation from a close friend. With careful and constructive work between your brand and influencers, your business will quickly be viewed as an integral element of your audience's holiday experience. Just like receiving a heartfelt, personal holiday card in a stack of habitual greetings, your authentic content will transcend traditional advertising, resonate with audiences on a personal level, and will enhance your business' image as reliable and consumer-centric.
3) Deliver More Sales and Conversions
Influencers aren't just content creators; they are catalysts for conversions. Their unique ability to craft engaging and persuasive content around your brand's holiday offerings can drive conversions like no other marketing channel. It's like having an army of virtual salespeople working around the clock to promote your products! What's more, holiday influencer marketing allows your brand to generate a sense of exclusivity around your products or services, allowing their followers to feel like they're part of a limited club. This feeling can drive tremendous conversions, as customers will be eager to share in the holiday excitement.
We provide a consultative first meeting without the pressure to sign. Let us know what you're working on.
Unwrap Prosperity with Kraus Marketing
The holiday season is a sprint, and it's easy to fall behind in the rush. Partnering with Kraus Marketing is like having a team of Santa's little helpers at your disposal. We have a finger on the pulse of holiday trends and consumer behavior, allowing us to tailor your campaigns for maximum impact. From crafty social media posts to eye-catching email campaigns, we'll ensure your brand remains top-of-mind throughout the season. Contact us today to utilize our festive and effective strategies. Plus, it's never too early to start thinking of next year's tactics!