4 Essential Seasonal Marketing Strategies & Benefits
Winter, spring, summer, and fall are far more than passing seasons. They're fresh opportunities for firms of all sizes to prosper. When companies pay close attention to consumers' fluctuating behaviors and needs each season, many see a sharp spike in their leads and brand loyalty. Let's explore helpful seasonal marketing ideas to ignite your marketing strategy and how you can capitalize on every event, holiday, and sentiment each season produces.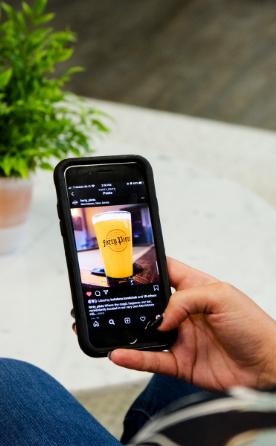 Digital Marketing
Capture Leads, Generate Sales & Find New Customers
Capturing relevant information about customers, fans, followers, and friends enable us to create more personalized interactions. In turn, we can better understand how to provide the best possible experience for our target audience.
1) Craft Seasonal Marketing Campaigns
Commence your seasonal marketing journey by crafting inventive and productive campaigns whose messaging, visuals, and promotions carefully align with your target season. Utilize seasonal imagery, colors, and themes to spellbind your audience and help your brand stand out. For instance, you can use light-hearted, soft, and fun themes for spring, a vibrant yet timeless feel for summer, and so on. By leveraging the excitement and relevance of each season, you'll spark a sense of urgency with your audience that'll encourage them to take action, leading to soaring conversion rates, high levels of customer engagement, and increased brand awareness.
2) Offer Seasonal Promotions & Discounts
Season after season, customers can't get enough of discounts and sales. This is because of the loss aversion principle, a cognitive bias that conditions an individual's decision based on fear of losing money, time, or opportunities. When patrons spot a price drop, it produces a sense of happiness by releasing oxytocin, making the customer feel smarter and happier.
Hence, to continue incentivizing customers to make purchases throughout the year, we recommend designing enticing offers that align with each season's spirits that heavily resonate with the target audience. Whether it's a limited-time discount, a buy-one-get-one offer, or a seasonal bundle, be sure your promotions are irresistible and generate a sense of urgency your customers can't resist.
3) Embrace User-Generated Content
A recent study found that 85% of patrons are more likely to trust a brand that uses content from actual consumers or user-generated content (UGC) than paid influencers. That means there's more of a reason to capitalize on UGC content for your seasonal marketing campaigns. Thus, encourage your audience to share their experiences and testimonials from utilizing your brand's products or services to promote authenticity and trust with your followers. You can even share their content on your platforms to reinforce the dependability and honesty of your brand. Moreover, we recommend you thoughtfully scroll through your feedback to understand your customer's perspectives on your brand, then tweak your future marketing campaigns accordingly.
4) Customize Your Social Media Platforms
It's time to go visual. Bring your social media platforms to life with clever creative content, UGC, hashtags, etc., that revolve around seasonal marketing. Use imagery, design, and emojis to capture seasonal vibes and sensations. Constructing attention-grabbing and emotion-eliciting visuals will help build positive emotions and responses around your brand. Furthermore, we encourage you to engage with your audience to foster a community and expand your campaign's reach further.
We provide a consultative first meeting without the pressure to sign. Let us know what you're working on.
Try Seasoning Marketing with Kraus Marketing
If your seasonal ideas are getting little traction, it may be time to partner with an award-winning marketing firm like Kraus Marketing. We've created targeted seasonal marketing campaigns that have yielded significant benefits, including amplified brand visibility, better customer engagement, augmented conversions, and enhanced customer loyalty. Contact us today to embrace the seasons effectively and make the most of their opportunities.