Marketers Explain Web Design vs Graphic Design
To non-designers, web design and graphic design may seem like the same thing. And while there is some overlap, the two have very different functions—especially in marketing. So, what is the difference between web design vs graphic design? We dive into the details in this article.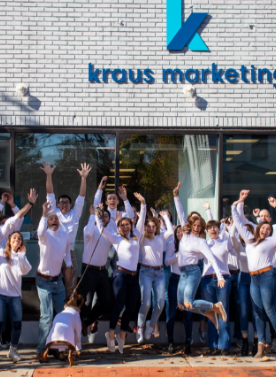 About Us
Full-Service Marketing Agency
We are a full-service digital marketing agency looking to take your campaign or project from concept to finished product, assuring no detail is overlooked along the way.
The Differences Between Web Design and Graphic Design
Web design is used strictly for websites. Think the elements on a site that a user interacts with, such as the typography, icons, and buttons. Web design tends to be responsive and interactive, which affects the user's experience on a site.
Graphic design produces static graphics such a flyer, poster, invitation, brochure, etc. These materials can include typography, imagery, icons, color, and more. Graphic design can also create digital materials, such as a social media graphic or PDF.
How Web and Graphic Design Work Together
Web and graphic design work together in many ways. Typically, a company will have branding that includes which fonts, colors, and icons to use. From there, those elements can be used on any printed and digital material like business cards or online ads. They can also be used across the company's website. This, in turn, creates a cohesive look and feel across all platforms, devices, and mediums.
Careers
Find Your Marketing Career
When it comes to employee culture, we are all about incorporating fun into everything we do. We are looking for individuals who are talented, hardworking, and driven to be the best in their field.
Does My Company Need a Web or Graphic Designer?
To determine if your company needs a web or graphic designer, decide what type of deliverable you want. As an experienced digital marketing agency, we've put together this list based on common requests our designers receive.
I need a logo. A logo is used for print and digital materials, as well as on your website, but a graphic designer will be needed.
I need a brochure. A brochure is typically print but can be digital as well; a graphic designer will be best.
I need to speed up my website. Sometimes, too many responsive elements can slow down a website. To help site speed, you'll need a web designer or developer (we have both).
I need social media images. A graphic designer can create images for social media.
I need a new website. A revamped or completely new website will require a web designer.
I need a business card. A business card is a printed material, so a graphic designer will be needed.
I need an email newsletter. An email newsletter template can be created by a graphic designer.
At Kraus Marketing, we have a team of web designers, graphic designers, web developers, photographers, and any other creative mind you may need. Contact us online to learn more.