The Benefits of Implementing a Bottom Website Navigation
There are a lot of considerations that go into website design, from the colors you choose to how users interact with your site. One of the most essential considerations of any website is the navigation menu placement. Most users expect to find it at the top of the screen, but as mobile usage continues to grow, UX designers will have to develop new solutions for users to easily find and reach that navigation.
One such trend that is becoming big in 2022 is bottom website navigation. UX designers who place the navigation bar at the bottom are making the menu icon more accessible for users to click on mobile devices. This eliminates the need for users to have to stretch their thumb across their device to reach the icon.
One great example of a platform utilizing bottom website navigation is Safari, the internet browser owned by Apple. With the recent iOS 15 release last year, the URL bar was moved to the bottom of the interface, making accessing it easier to navigate with one hand.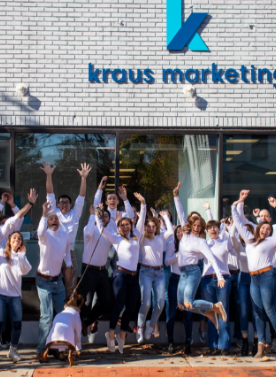 About Us
Full-Service Marketing Agency
We are a full-service digital marketing agency looking to take your campaign or project from concept to finished product, assuring no detail is overlooked along the way.
Bottom Website Navigation vs. Hamburger Menu
Now you may be asking yourself, "Is it better than a hamburger menu?" We've found that bottom navigation could be preferred over a hamburger menu on mobile app designs. This is because the bottom navigation can include contextual info to the user, like associated icons, which leads to faster access.
A hamburger menu, on the other hand, hides all the information and is only visible once opened. If a bottom navigation bar cannot hold all the navigation options, a combination of both bottom navigation and hamburger can be used. In this case, the most commonly accessed pages would be replicated into the bottom navigation.
Looking Towards the Future
While bottom website navigation is becoming increasingly popular for mobile apps, we suspect this trend to continue to rise thanks to mobile screens becoming increasingly bigger. However, it's essential to note that web design will likely still retain top navigation for familiarity.
We provide a consultative first meeting without the pressure to sign. Let us know what you're working on.
Ready to Create a Mobile-Friendly Website?
Kraus Marketing is a full-service web design agency that can design and develop a mobile-friendly interface design for your website. Contact us today to get started!