Marketing in the Metaverse? Kraus Marketing Can Help
As an award-winning full-service marketing agency, Kraus Marketing is dedicated to staying updated on the latest marketing trends and platforms—including the recent release of Horizon Worlds (formerly Facebook Horizon). Our agency has already shifted our R&D efforts towards the metaverse's virtual reality spaces, acquiring multiple Oculus headsets and establishing a research team.
Read more about our VR efforts and expansions in our press release:
https://www.prnewswire.com/news-releases/kraus-marketing-is-entering-facebooks-metaverse-301473938.html?tc=eml_cleartime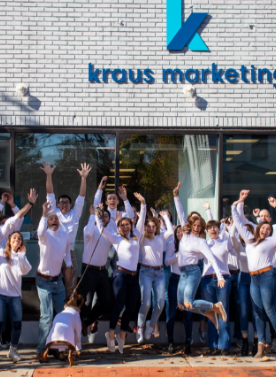 About Us
Full-Service Marketing Agency
We are a full-service digital marketing agency looking to take your campaign or project from concept to finished product, assuring no detail is overlooked along the way.
Choose Kraus Marketing
Don't travel the metaverse on your own! Let Kraus Marketing's metaverse pioneers give you the competitive advantage you need for customers to see the value in your products or services. Contact us today to get started with building your winning metaverse marketing strategy.