Removing Low Quality Backlinks With Google's Disavow Tool
If you have a website, there is a good chance that you might have low quality backlinks pointing to your site. In this article we will discuss what you need to know about low quality backlinks and how you can use Google's Disavow Tool to remove them.
Black Hat SEO Techniques
Many website owners have made the mistake of hiring SEO companies that use black hat SEO techniques to help their clients gain organic rankings. This involves buying unnatural low quality backlinks that end up doing more harm than good. These backlinks might appear to bring about long-term results at first. But this will only backfire in the end, causing your site to be penalized by Google and end up losing a significant amount of organic traffic.
J.C. Penny's Paid Backlinks Example
Case in point: In 2011, retail giant J.C. Penny was involved in a paid links debacle that was carried out by a third party SEO Vendor. The retailer began ranking #1 for just about every search term that you could think of, even ranking higher than the manufacturers of those products.
An investigation was carried out and the findings revealed that thousands of seemingly unrelated web sites (many that seemed to contain only links) were linking back to the retail giant J.C. Penny. It was later confirmed by Matt Cutts, head of webspam, that these unscrupulous black hat SEO tactics violated Google's Webmaster Guidelines. To no one's surprise, shortly after, manual action was taken and J.C. Penney was no longer ranking for the queries they had previously ranked #1 for.
Google Disavow Tool
In October of 2013, Google introduced the disavow tool. This powerful tool allows you to ask Google to not count certain links that are pointing to your site. In this case, spammy and unnatural backlinks that were purchased by SEO companies trying to outsmart Google's algorithms were now being discredited. As we should all know by now, these black hat SEO techniques will only bring about short-term results and end up hurting your site's organic rankings in the long run.
What You Should Know About The Disavow Tool
Using the disavow tool incorrectly can actually hurt your Brand's performance in Google's search results. In fact, you should only disavow links that you know were intentionally created to manipulate Google's search results.
How To Use The Disavow Tool
Create a text file in notepad (Windows) or TextEdit (Mac).
# Can be used at the start of a line to write a comment for Google or for your own personal notes to describe the link or domain that you want to disavow.
Domain: is used to tell Google that you want every link from the domain to be disavowed.
Here is what the file will look like: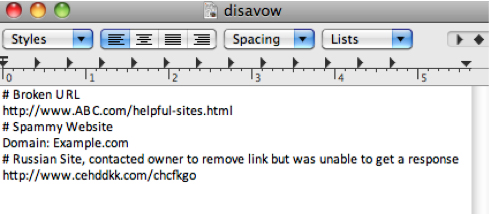 Sign into Google Search Console.
Choose the domain you want to disavow links for from the dropdown.

Make sure you read the warning message!

Click the choose file and go and find the .txt file you created.
For the final step, make sure you submit the file.
What if I made a mistake?
If you've made a mistake in a disavow file that you've already submitted, you can always make the necessary changes and then re-upload the file, which will overwrite the previous one.
You should be cautious when using the disavow tool, because if used incorrectly, you can actually hurt your site's organic performance in Google's search results. If you know that you have low quality backlinks that are pointing to your site, then this powerful tool is a good way to ask Google to not count these links against you.
The SEO Specialists at Kraus Marketing know how to use Google's Disavow Tool to effectively remove low quality backlinks from your site. Contact Us Today at 973-998-5742 or visit us online at www.KrausMarketing.com.