Make Room for OTT Marketing in Your 2023 Advertising Budget
Usually, things that are over-the-top can make you roll your eyes. However, OTT Marketing, or over-the-top marketing, is actually desired by many, as it delivers ads directly to select viewers through streaming services and devices. The term "over-the-top" implies that the content provider is launching over the top of existing internet services.
So, what does this have to do with you and your business? When done properly, OTT advertising could be a huge game-changer for you with its incredible targeting and reporting capabilities. Today, we'll dive into OTT marketing and how to best utilize it to get a beneficial return on investment.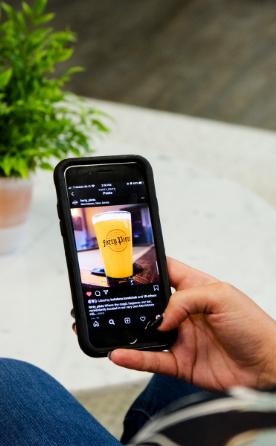 Digital Marketing
Capture Leads, Generate Sales & Find New Customers
Capturing relevant information about customers, fans, followers, and friends enable us to create more personalized interactions. In turn, we can better understand how to provide the best possible experience for our target audience.
Micro-Targeting at Your Fingertips
We can all agree how convenient it is to reach your perfect audience right from their phones, laptops, and consoles. It's a no brainer that OTT advertising is a win-win deal for both customers and providers. Whether served on a television or your mobile device, OTT marketing works smoothly to let brands assemble audience targeting, thoughtfully measure who is viewing their advertisement, and see how their ad stacks up against competitors. The most popular OTT streaming platforms include Netflix, YouTube Red, Hulu, HBO Now, and Amazon Prime Video.
What's more, when working with OTT advertising, you can shrink your marketing net to incorporate specific ages, gender, location, income level, education, ethnicity, and even the time the user turns on their device. This term is called micro-targeting and proves to help marketers avoid a too varied target audience and instead target exactly who would benefit from their product or service the most.
Enjoy Enhanced Data Analytics
With OTT advertising, users can relish in advanced data feedback and analytics, accessible from many web-based platforms that host OTT advertisements. There are plenty of data points that OTT advertising can offer its advertisers, including:
Completion Rates
Viewing Times
Customer behavior
Total views
Demographic response
Attribution tracking
Tap into Unique Features and Actions
Did you know about one of the most unique benefits of OTT advertising: interactivity? With this type of advertisement, viewers can actually play with your ad by clicking on links, taking surveys, or even open a new tab to search for your product or service. This cements a clearer, shorter path towards consumer action, spiking your click-through rates and much more!
OTT advertising is a growing market that isn't stopping anytime soon, so don't wait to jump on the bandwagon. Since viewers are continuing to "cut the cord" on dated cable and are continuously transitioning to digital streaming, marketers must be ready to follow suit on their advertising techniques.
Capturing relevant information about customers, fans, followers, and friends enable us to create more personalized interactions.
Utilize OTT Advertising with Kraus Marketing
Ready to make a lasting impression your audience? OTT marketing may be the best route for your business. Kraus Marketing can help you craft eye-catching display ads or utilize programmic advertising to crush your business goals. Interested in what we can do for you? Contact us today to schedule a meeting with our award-winning team.