Will It Help Your NYC Business to Start a Podcast? Let's Take a Look
So long are the days of billboard advertising and TV spots being the only means to communicate a company's brand identity effectively. Now, businesses recognize that it takes more than towering signs and flashy ads to connect with consumers. Not to mention the financial strain running a campaign across Manhattan can take. Our solution to increasing engagement may be easier and more cost-effective than you thought—start a podcast! This modern form of consuming information has never been trendier and more lucrative for businesses.
Learn to start a podcast and reach all of New York City and beyond by reading more of our blog.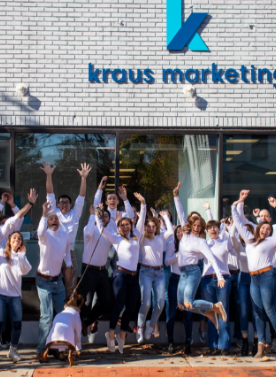 About Us
Full-Service Marketing Agency
We are a full-service digital marketing agency looking to take your campaign or project from concept to finished product, assuring no detail is overlooked along the way.
The Podcast Market is Hot in New York City
There are so many statistics about podcasts that prove their value increases year after year. It's estimated that 78 percent of the US population is now aware of what a podcast is—up from 64 percent in 2018. With podcast listenership consistently rising, the market's growth is a testament to the trend's popularity. That means that having a podcast will most likely bring with it a direct line to your target audience. Utilize that power to express your business's legitimacy and establish yourself as a name to be remembered as authenticity is one of the top ways podcasts retain viewership.
Bring A Unique Podcast To New York City
Consider brainstorming ideas for your episodic podcast that not only promotes you as an educational force in your industry but something that is interesting enough for people to tune back into for another episode. This may require you to flex your creative abilities and deliver an engaging listening experience. There are many formats you can take for your podcast, but the most important aspect is that you post frequently and consistently. That builds trust with your audience and pushes them to interact with your brand even further.
As a business native to New York, consider talking about topics that other city folk can relate to. This may include personal anecdotes about your experience working in the city, getting your business started in a fast-paced environment, and how your industry has evolved with the city over the years. Build on the connection only New Yorkers understand in order to drive home that connection the podcast is working towards cementing.
Start a Podcast to Build More Leads
In a study from Oberlo, more than half of participants were more likely to engage with a brand they heard about in a podcast. Brands that find success connecting directly to their audience through podcasting experience a higher level of trust from the consumer. A more personal relationship is formed between your NYC business and the person tuning in weekly to hear what you have to say.
Interesting podcasts are a surefire way to lead listeners to engaging with your business, so it really boils down to how successful your podcast is at engaging, informing, and entertaining your potential consumer. By the end of your podcast, the listener should have learned something new, be eager for more content, and have had a memorable enough impression to close a deal.
We are a full-service digital marketing agency looking to take your campaign or project from concept to finished product, assuring no detail is overlooked along the way.
Promote Your Podcast with Professional Digital Marketing
What is it about podcasts that keep people so intrigued? Some people may never get into audio-only media, but most enjoy it as an easily accessible way to hear a story. However, at the end of the day, promoting your company podcast will need some assistance. Pair your podcast initiatives with a strategic digital marketing campaign from Kraus Marketing. We offer social media marketing, email marketing, display ads, and more. Simply contact us today to learn more.