3 Reasons to Partner with an OTT/CTV Advertising Agency
The Golden Age of streaming is upon us—and it's time for you to savor this sweet marketing opportunity.
If you've binge-watched a TV series (which is all of us), you may have noticed little ads that pop up in during the "commerial breaks." These ads are called over-the-top advertisements, also known as OTT ads, and are personalized video content sent directly to viewers to educate them on the advertiser's product or service. The goal is to get the consumer to act, or convert, by having them make a sale.
With so many compelling ads running at a time, how will your ad stand a chance against the competition? That's where OTT/CTV advertising agencies like Kraus Marketing come into play. We have effective strategies to help your Tampa or Florida-based business dominate the digital consumer landscape. Here are 3 reasons to partner with us.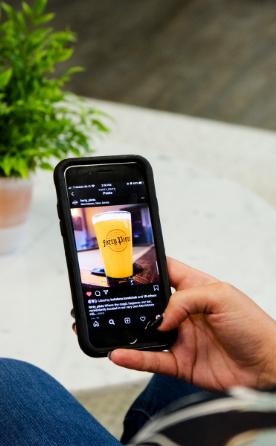 Digital Marketing
Capture Leads, Generate Sales & Find New Customers
Capturing relevant information about customers, fans, followers, and friends enable us to create more personalized interactions. In turn, we can better understand how to provide the best possible experience for our target audience.
1) Use Hypertargeting to Boost Revenue
Wouldn't it be nice to know exactly who your target audience is, what they like, and how to best  reach them without strenuous effort on your part? With an OTT agency, that is entirely doable!
Hypertargeting is a unique marketing strategy that lets you develop and deliver a personalized message to a very narrow audience or persona across various advertising channels. Partnering with an OTT agency means we handle identifying your ideal customer's buyer persona along with which segmentations to highlight and enact geo-targeting and re-targeting. These methods can help you obtain qualified leads from individuals much more likely to become customers while avoiding those who are completely uninterested.
2) Borrow Ideas from Brilliant Minds
When partnering with a seasoned OTT agency, your marketing circle dramatically expands from a few marketing rookies to a competitive blend of project managers, graphic designers, digital strategist, and sharp copywriters. You'll now have access to the most advanced digital tools and creative minds—minds who will ensure your results are top-tier and that all of your ideal customers are influenced through artistic and effective advertising content. Marketing agencies help a diverse collection of clients and have a strong understanding of many different industries, giving us a head-start on which direction your campaign would be prosperous.
3) Benefit from a Fresh Perspective
When executing the same campaign over and over again, it's easy to become stuck in one mode of thinking and miss key elements to improve your campaign. With an outsourced agency, you'll have access to a new perspective and effective strategies that your team may never have thought of, simply because you didn't know they existed! Agency marketers aren't afraid to send your campaign in a better direction if we know a certain tactic doesn't work. We've done the marketing homework so you don't have to, and we're ready to apply what we've learned to help your company succeed.
Capturing relevant information about customers, fans, followers, and friends enable us to create more personalized interactions.
Full-Service Marketing Agency in Tampa, Florida
At Kraus Marketing, our mission is to bring the highest possible quality video content to your audience with purpose and perfection. We'll help you dominate the digital space, overcome your biggest obstacles, and remember your company's value. We have award-winning ideas for your next marketing initiative. Contact us to get started on your results-driven campaign.