What Is ChatGPT & How Can Businesses Use It?
We welcome you to the future of marketing, where artificial intelligence and human proficiency sync like never before. Introducing ChatGPT, the avant-garde tool that is a game changer for businesses of all statures. Want to harness the power of AI to make better data-backed decisions about your audience? With ChatGPT, it's easy! Let's dive into the question, "what is ChatGPT?" and more about the tool's abilities and updates.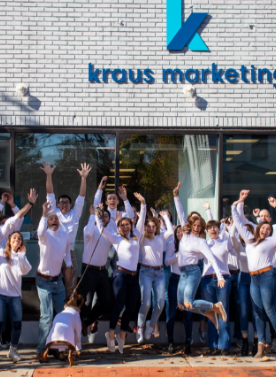 About Us
Full-Service Marketing Agency
We are a full-service digital marketing agency looking to take your campaign or project from concept to finished product, assuring no detail is overlooked along the way.
Introducing ChatGPT
In technical terms, ChatGPT is a large language model chatbot digitally designed with extraordinary ability to interact surprisingly human-like, using human feedback to help itself learn how to better follow directions and generate acceptable replies. Below are a few of the many benefits of businesses using this chatbot.
ChatGPT Creates Ideas and Content at Scale
Whether you want to produce more work in less time, or simply increase the quality of your output, ChatGPT is a powerful tool that can help you accomplish these goals and more. By using the specific prompts ChatGPT produces and centering on the tasks the tool is fluent in, it's easy to use this tool to generate new ideas and content your audience will appreciate. ChatGPT will do this by taking note of specific input and user interests, boosting possible engagement, and funneling more traffic to your business's website or social media channels.
ChatGPT Streamlines Market Research and Delivers Audience Insights
Need to improve your marketing strategy? No problem. ChatGPT can provide a durable foundation of audience insights to help you make more informed decisions on future marketing endeavors. Whether you're interested in understanding more details about a specific audience or exploring a new market, ChatGPT can help you swiftly and expertly synthesize a broad range of data to augment your marketing efforts. Moving in the direction of your most profitable customer base will help your business become more profitable and generate more positive word of mouth.
ChatGPT Has Quick Response Times and Accurate Responses
It's very frustrating when a chatbot can't understand what you need, and many of us get frustrated and high-tail it off the website, possibly turning to a competitor to better solve our problems. Fortunately, ChatGPT can uniquely digest customer information quite accurately and generate first-rate responses that can help your potential customers get to where and what they need faster. In turn, having a faster response time than your competitors will make your company seem more reliable and trustworthy in your users' eyes. Once customers see you can offer them the answers they need in a matter of minutes or seconds, they'll want to stick with you. What's more, ChatGPT's skill of giving fast and accurate replies to customer queries will free up time for your customer service agents, letting them focus on more critical matters.
We provide a consultative first meeting without the pressure to sign. Let us know what you're working on.
Get Started on Your 2023 Digital Marketing Strategy
Using ChatGPT's trailblazing tech can be a superb addition to your digital marketing strategy this year, but you shouldn't rely on solely this tool to convert customers. Kraus Marketing specializes in creating marketing strategies that exceed your expectations and we know the best tactics to attract and convert your customers. Don't wait to use our award-winning strategies. Contact us today to speak with a member of our team.