Our First Look Into Metaverse Glasses
Hybrid technology is constantly fueling customer experiences, whether that means trying new hybrid vehicles or adapting to hybrid work environments. It seems that brands are engaged with delivering novel digital experiences to meet and exceed changing customer preferences and expectations, and businesses in all industries want to participate.
Partnering with Meta, the company formally known as Facebook, Ray-Ban has unveiled their very first generation of smart glasses that will help consumers stay connected to the up-and-coming Metaverse. These glasses were assembled by Facebook Reality Labs, whose current goal is to "construct tools that will help users feel connected anywhere and anytime."
Can metaverse glasses and similar tech help you live more in the moment? Read on to find out.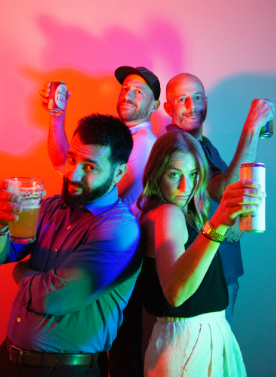 Our Team
Home of the Creatives
At Kraus Marketing we combine great ideas with hard work and a dedicated team of projects managers, designers, web developers, Google certified digital strategeists, and copywriters.
A Smarter Way to Connect
Ray-Ban has officially rolled out their $299 "smart sunglasses and eyewear" that allow people to not only enter the metaverse, but to also capture images hands-free, make calls, create under 30 second videos, and listen to their favorite songs.
Metaverse glasses—which can be purchased in the U.S., UK, Canada, Italy, Ireland, and Australia on the company's website and in stores—are made using three existing Ray-Ban styles and are available as both prescription glasses and sunglasses. A new app named "Facebook View" stores the recorded content for the user.
Smart glasses have long been positioned as the next breakthrough product. This innovative wearable introduces immediate potential for crafting unique content and capturing real life experiences for companies worldwide. Ultimately, the tech industry's final goal will be to have a single wearable that fuses augmented reality and virtual reality. However, since the technology has yet to catch up, Ray-Ban's novel wearables are the first to step up and claim the space.
We provide a consultative first meeting without the pressure to sign. Let us know what you're working on.
Enter the Metaverse with Kraus Marketing
Kraus Marketing is deeply invested in understanding and creating the next generation of consumer experiences. Plunging into the metaverse can help you craft unique digital touchpoints and build connection like never before. Be one of the first companies to make an impact on this new world with our award-winning marketing services. Contact us today to get started.