3 Ways to Thrive in Facebook's Metaverse
VR, Virtual Reality, is a new frontier in the world of consumer marketing. Whether you bought your Oculus for business, video games, or a mix of both, Kraus Marketing is here to help break down everything you need to know. The Facebook Metaverse is rapidly evolving how businesses can operate to their fullest potential. With so many new features, worlds to explore, and opportunities to stand out in the FB Metaverse, continue reading for tips on how to thrive in this immersive space.
After connecting your Oculus to your Facebook account (keep that password handy – you'll be typing it in a lot!), you'll have access to two incredible apps. Horizon Worlds and Horizon Venues are two of the most popular downloadable apps on the Oculus's market. Both games feature customized content and varying locations, from arcades to movie theaters, to board rooms for important meetings. Limits hardly exist in the Metaverse, especially in the Horizon games. Take advantage of all that Horizon Worlds and Venues can offer you when you purchase your Oculus headset.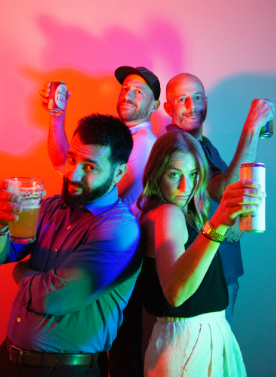 Our Team
Home of the Creatives
At Kraus Marketing we combine great ideas with hard work and a dedicated team of projects managers, designers, web developers, Google certified digital strategeists, and copywriters.
Tip #1 to Thrive in the Facebook Metaverse: Be Respectful of the Rules
When you're navigating your way through Horizon Worlds, you're entering a space filled with diverse people, thoughts, and opinions. Be sure to remain respectful of everyone, as moderators will be quick to remove you for cursing or using inappropriate language. If someone is bothering you, you can easily mute them on your hand communicator. The tutorials for Horizon Worlds and Venues will explain this useful feature, and it will come in handy throughout your time in the Metaverse. You can also report people for hate speech or just for being overtly loud and bothersome. Remember, sound travels farther in the Metaverse, a fact you'll be reminded of when entering Horizons every time, so try not to have outside conversations when plugged into the Metaverse (or mute yourself if you have to).
Tip #2 to Thrive in the Facebook Metaverse: Play the Best Games
When it comes to gameplay, Horizon Worlds offers a variety of popular and exciting worlds available for playing in. Consider playing the laser shooting game that is shown to you after the tutorial, where players are split into groups and play a combination of football, capture the flag, and of course, laser tag. This wild take on these fast-paced games is another example of the Oculus being an innovative experience maker. Where else could you shoot bazookas with your right hand and throw a football with your left? All while making new friends and bonding with real people—other Oculus users—along the way. If you get along, add them as a friend and continue to explore the Metaverse with a buddy by your side.
Tip #3 to Thrive in the Facebook Metaverse: Try New Things with New People
Looking for a fun spot in Horizons to test out your comedy chops? Practice performing in front of a virtual crowd of real Oculus users at the Stand-Up club venue. You can enter the comedy club and view anyone's act or hit the button on the side of the stage and wait for your turn to perform. Servers usually hold a group of 20, and the pressure is never there—just focus on having fun. You can thrive from all the attention you get making people laugh on stage and potentially make new friends along the way. Showcasing your comedy, reading your slam poetry, or just singing your heart out on the comedy club stage will surely make you stand out in the Metaverse.
Another unique place to explore in Horizon Worlds is the zombie shooting game which can be found in the back left of the Horizon Venues 'home base'. Team up with a random group of Oculus users to shoot down rampaging flesh-eaters while walking among a burned-down city. It's a fun game and just one-way the Oculus Metaverse can keep you entertained for hours.
Consider entering any Metaverse 'archway' in Horizons for something new, as they're always changing and offering unique experiences. Many archways, like museum hallways, have educational components too. Enter through one and explore presentations on space where you learn while walking amongst a super nova and the International Space Station. Horizon Worlds and Venues will never leave you bored with so many places to discover.
We provide a consultative first meeting without the pressure to sign. Let us know what you're working on.
Join the Facebook Metaverse and Thrive
Horizon Worlds, one of Oculus VR's top-selling apps, is truly a testament to Virtual Reality technology. It combines the social elements of the real world, with the high excitement and immersion of the best video games. You can thrive in the Facebook Metaverse by following the rules, exploring new spaces, and building new connections. Reach out to Kraus Marketing if you're interested in learning more about this intriguing intersection of tech, advertising, and fun.