Step-by-Step Guide on Instagram Reel Creation
In 2022, content is king on social media. It's the best way to grab a user's attention and keep them engaged for longer periods. Additionally, it's great for building awareness, gaining new followers, and building a community of loyal fans.
At Kraus Marketing, we've found many B2B and B2C brands are seeking creative ways to grow their social channels and bring in qualified leads to their website. Our best tip for helping brands succeed on social media is to start producing high-quality video content like Instagram Reels. This is an entertaining way to educate your audience and creatively showcase your brand through short-form videos.
So, how do you create an Instagram Reel? Here are the four main steps.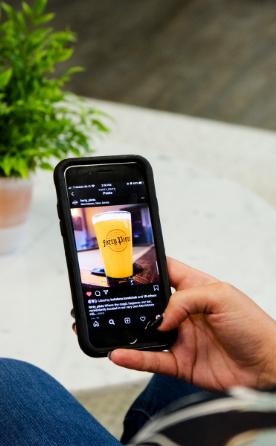 Digital Marketing
Capture Leads, Generate Sales & Find New Customers
Capturing relevant information about customers, fans, followers, and friends enable us to create more personalized interactions. In turn, we can better understand how to provide the best possible experience for our target audience.
Step 1: Planning
Before you start filming an Instagram Reel, you must plan the video. First, take the time to determine what the goal of the Reel will be. Then, ask yourself if the Reel is meant to bring awareness to your brand, increase your reach, drive website traffic, or create new conversions. From here, it's essential to take the time to brainstorm Reel ideas and determine what equipment you will need.
Step 2: Creative
Once you've created a plan of action for your Instagram Reel, the fun begins—it's time to film! To ensure the production of the Reel goes smoothly, it's essential to ensure everyone is on the same page and all equipment is properly set up.
Step 3: Implementation
When your Reel is ready to share, it's time to post it on your Instagram page. All Reels must be manually published when you wish them to go live. If you're planning content in advance, be sure to save it as a draft after editing in the app.
To help increase your Reel's visibility, use trending sounds and hashtags! It's also possible to "boost" a Reel to expand its reach, allowing new audiences to discover your content and brand.
Step 4: Performance
After the Instagram Reel is live, monitor its performance from views and likes to comments and saves. This will help you understand how your audience responds to the content you create and see what performs best. If you want to take an even deeper diver, check out the post insights to see impressions, follows, and reach. Also, look at video through plays to see how long users watch your content. You can also cross-check data with your website traffic by looking at the Instagram social channel grouping.
Capturing relevant information about customers, fans, followers, and friends enable us to create more personalized interactions.
Create Your Instagram Marketing Strategy with Kraus Marketing
For help with video content creation or Instagram advertising, reach out to Kraus Marketing. We're experts at creating and managing social media campaigns that drive website traffic and increase conversions.