This week's Monday Mashup is all about social media!
A few years ago, if you told your friends and parents that you wanted a career in social media, you probably wouldn't have gotten a good response. When I first told my parents my career aspiration back in 2008, I was met with a confused look, immediately followed by laughter because they assumed that I just wanted to goof off on Facebook all day. They told me it wasn't a practical career choice because social media was "a fad that would die in a few years."
Fast forward to 2015 and social media is as strong as ever. Colleges have entire courses dedicated to social media marketing and brands are harnessing the power of platforms like Facebook and Instagram to tell their story. Some fad, right?
In case you haven't gotten the memo, social media is here to stay, as evident with the new developments we saw last week. Lets take a look at the new and exciting innovations and trends in this week's Monday Mashup.
Facebook's Verified Badges
Do you follow your favorite brand on Facebook? I know I do; in fact, I get push notifications on my mobile app whenever they post. But in a world filled with trolls and parody accounts, sometimes its difficult to find your brand's official social account.
This is when the Verify Badge comes in handy! Twitter has them, Instagram has them, and pretty soon Facebook Business pages will have them.
These badges will help users find the right and authentic Facebook pages of their favorite local merchants. Do you have a business page on Facebook? Make sure that you get the official stamp of authenticity when Facebook rolls out this new feature!
@InstagramForBusiness
Last week, Instagram created a new account @InstagramForBusiness. The initiative of this new account is to provide inspiration in the business world by highlighting the success of others. Instagram wishes to showcase brands, agencies and small businesses that have had success with Instagram's marketing features. This success – which can be organic or paid – will be rewarded with behind-the-scenes stories on the @InstagramForBusiness blog.
IHOP's Twitter Blunder
Many Brands have concluded that the best way to attract a younger audience is to emulate them. This includes speaking their lingo and craft posts filled with pop-culture references. While this approach may work, IHOP took things a little far. While attempting to show off wit and snark, IHOP's social media manager thought it would be clever to reference the size of a woman's breast in this tweet: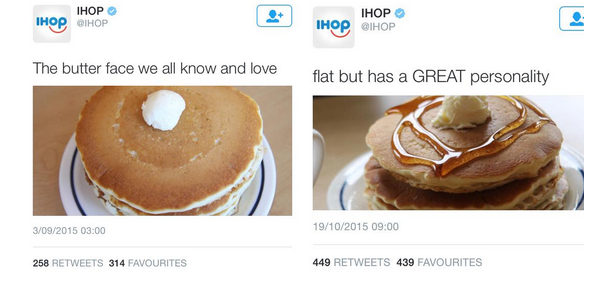 Maybe they forgot that coming off as misogynistic is a good way to spark controversy. Maybe they thought it would be clever to reference breasts in October…also known as National Breast Cancer Awareness Month. Who knows, your guess is as good as mine.
Needless to say that other people didn't find their tweet funny. IHOP immediately deleted the tweet and replaced it with an apology; however, the damage was already done.
Always remember: Be careful what you post because social media can make or break your career or brand image.
What social platform is most popular?
This year, many businesses have begun to tailor their marketing plans with a specific audience in mind: Generation Z. Brands have been searching for where this new audience is located, so they can focus on those social media platforms. The question on everyone's mind:
"Mirror, Mirror on the wall, which social platform is most popular of all?"
Surprisingly, the most popular social platform isn't Facebook. According to a new survey from Piper Jaffray of American teens, the most popular social media platforms among teens are Instagram, Twitter and Snapchat.
The survey, which has been conducted twice a year for the past 15 years, found that:
33% of teens prefer Instagram
20% of teens prefer Twitter
19% of teens prefer Snapchat
Only 15% of teens prefer Facebook
While these results should only be taken with a grain of salt, this survey does provide interesting insights, which marketers should keep in mind when developing their social media strategy for the upcoming months.
The digital marketing landscape is always changing, and its easy to lose track of the latest developments. Don't worry, Kraus Marketing has you covered. For the latest scoop on all the digital trends, make sure to follow our blog. If you have any questions, contact us at (973) 998-5742 and be sure to follow us on Facebook or Twitter. Be sure to check back next Monday for our next edition of Monday Mashup.