Your Fave Companies Are Involved in the Metaverse
It's true—big-name businesses have made their way to the metaverse! We're so excited to see our favorite brands suiting up to make an historic entrance in this new digital space.
But first, what exactly is the metaverse?
The Metaverse, Spelled Out
The Metaverse is a virtual platform where you transform into digital avatars to interact with people, places, and experiences in the realm. Since the technology is still developing, we suspect there will be a lot more to it in the future, but for now, we understand it to be a digital space parallel to the physical world.
It's also a place for companies to reach customers in totally new ways, such as building shopping platforms, creating virtual real estate, hosting fascinating events, selling digital assets like NFTs, and much more!
Let's dive into a few of the companies involved in the metaverse.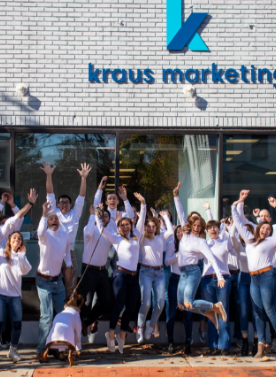 About Us
Full-Service Marketing Agency
We are a full-service digital marketing agency looking to take your campaign or project from concept to finished product, assuring no detail is overlooked along the way.
Companies in the Metaverse
Meta
Meta is currently the main entity working on developing the metaverse. Through careful digital construction and promotional initiatives, the company is weaving a massive network of real-time 3D virtual domains, including "Horizon Worlds." This online platform lets users preserve their payment history and identity while participating in the world. There's a lot more in store for Meta and the metaverse, so we'll keep a close eye on any updates.
ROBLOX
Yes, Roblox is already here! With over 50 million daily users from around the world on its platform, this company has firmly positioned itself in the realm of possibility and opportunity that is the metaverse. Since the metaverse lets you build your own worlds of epic proportions, Roblox is more than prepared to invest in itself on the platform.
Tinder
Sorry folks, Tinder is taken.. by the metaverse! As painfully cheesy as that was, everyone's go-to dating app has recently ignited a relationship with the metaverse. Plus, the company will be cashing in their own tokens—Tinder Coins— to be used in the metaverse. What's more, Tinder's CEO is pumped to embark on "new experiences beyond the Swipe" in this new space.
Microsoft
We all knew it was a matter of time before Microsoft hopped on the metaverse train! This technology titan is in the process of creating metaverse-integrated applications with its Mesh platform, including a new reality chipset with Qualcomm. We can't wait to see what's in store for metaverse users after Microsoft's product launches!
Shopify
Shopify has recently built a novel AR/3D shopping feature, letting business owners craft 3D versions of their products that they can put in the metaverse! Additionally, the company is also building a beta version of an NFT marketplace, where users can sign up to buy and sell assets.
We provide a consultative first meeting without the pressure to sign. Let us know what you're working on.
Don't Be the Last One in the Metaverse
Don't be the last company settled in the metaverse and miss out on gaining a solid advantage against your competitors! Kraus Marketing can help you slay the transition into this new space, handling your marketing needs such as web design, digital marketing, branding, and video. Contact us today to get started.