Like other tech enthusiasts, we are so excited about the launch of the "metaverse" and what monumental changes are in store for marketers, consumers, and more. Without a doubt, this is a science fiction dream we don't want to wake up from!
With Facebook recently rebranding itself as "Meta" and other companies taking an interest in this new space, we can tell this will be an unforgettable development that will change the tech world forever. That being said, it is crucial for businesses of all backgrounds to pay attention to what's happening as the metaverse begins taking shape.
Join us as we dive into the groundbreaking dimensions of the metaverse, as well as 3 things businesses should know when gradually moving into virtual and augmented reality.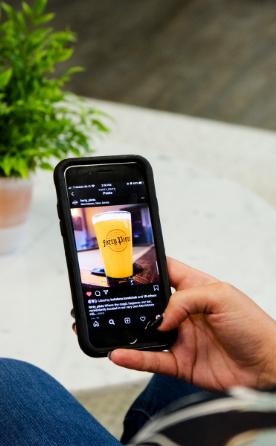 Digital Marketing
Capture Leads, Generate Sales & Find New Customers
Capturing relevant information about customers, fans, followers, and friends enable us to create more personalized interactions. In turn, we can better understand how to provide the best possible experience for our target audience.
Understanding What is the Metaverse & How Brands Can Leverage It
What is the metaverse? According to Facebook, the metaverse is "a world of endless, interconnected virtual communities" that blends both virtual and augmented reality for an unforgettable, unique user experience.
In his livestream announcement, Mark Zuckerberg laid out all the defining characteristics of his revamped company, including the presence of digital avatars that will mirror your body language and expressions through a virtual person or AR hologram. Users can create 3D objects that can be sold to consumers, who can then decorate their virtual rooms or the avatars themselves.
The metaverse also boasts virtual workrooms, classrooms for interactive lessons and virtual field trips, and educational opportunities like virtual demonstrations. Ultimately, there will be plenty of new resources for users to take advantage of—the possibilities are endless.
Businesses Have a New Place to Expand
None of us would have imagined a virtual world of this magnitude that we could dive into anytime soon, yet here it is. This novel terrain means that individuals and companies will be viewed and function in entirely new ways, with numerous opportunities for profit. As a result, firms must be first in line in setting up virtual shop in the metaverse to stay ahead of the competition.
We provide a consultative first meeting without the pressure to sign. Let us know what you're working on.
Why You'll Need a Revamped Digital Strategy
Since the metaverse will be personalizing experiences to connect users from all over the globe, one way for brands to get started is to follow consumer behavior and expand their social media following to become a trusted name among current and potential clients. Use strategic marketing strategies to grow your audience and keep up with customer demand and changing prospects. After all, the most fruitful brands in history were shaped in step with their customers' ever-changing needs!
As monetization and advertising become introduced in the metaverse, brands should also plan to begin creating and implementing virtual/augmented reality ads. Doing so will help customers get a sense of your products and services from a unique perspective and yet another touchpoint. An experienced marketing agency can help you navigate and stand out as metaverse advertising becomes more common.
Marketing in the Metaverse
Don't travel the metaverse on your own! Let Kraus Marketing's metaverse pioneers give you the competitive advantage you need for customers to see the value in your products or services. Our agency clearly understands what the metaverse is and how it will eventually shape marketing and advertising.
Ready to make waves in this exciting new arena? Contact us today to get started with building your winning metaverse marketing strategy.