How to Vet an Outsourced Marketing Agency for Your Enterprise Firm
Outsourcing marketing efforts is a common strategy among enterprise firms. It allows companies to focus on their core business while experts handle the intricate world of marketing. However, choosing the right agency can be a daunting task. At Kraus Marketing, we know just how important it is to ensure you have the right agency for your company. That's why we put together a guide on how to vet an outsourced marketing agency for your enterprise firm.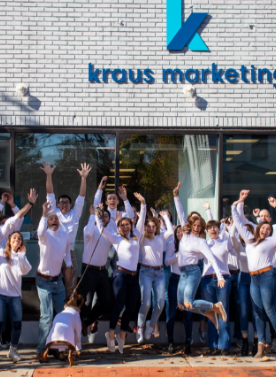 About Us
Full-Service Marketing Agency
We are a full-service digital marketing agency looking to take your campaign or project from concept to finished product, assuring no detail is overlooked along the way.
The Ultimate Guide to Vetting an Outsourced Marketing Agency for Your Enterprise Firm
Vetting an outsourced marketing agency is a vital step for enterprise firms to ensure a successful, productive, and secure partnership. From fluid communication and transparency to guaranteeing you're getting what you pay for, you will want to keep the following things in mind.
Understand Your Needs
Before you start looking for agencies, it's essential to understand your marketing needs. Are you seeking a comprehensive marketing strategy or specific services like SEO, content creation, or social media management? Once you have a clear idea of what you need, finding an agency that specializes in those areas will be easier.
Research Potential Agencies
Start your search by making a list of potential agencies. You can find them through online searches, industry publications, or recommendations from business associates. Once you have a list, do some preliminary research. Look at each agency's website, work portfolio, and client testimonials. Checking those sections will give you a sense of their capabilities and style.
Evaluate Their Experience
Experience is a crucial factor when choosing a marketing agency. Look for agencies that have experience working with enterprise firms in your industry. They should understand the unique challenges and opportunities your business faces. Ask potential agencies to provide case studies or examples of their work with similar clients.
Check Their Technical Expertise
Marketing today involves a mix of creativity and technical expertise. Make sure the agency you choose is proficient in crucial areas like SEO, data analytics, social media platforms, and digital advertising networks.
Assess Their Team
The people who will be working on your account are just as important as the agency itself. Ask about the qualifications and experience of the team members. It's also worth asking who your primary contact will be. You want to make certain that there's a level of comfort and trust with the person managing your account.
Consider Their Pricing Structure
Pricing is another essential aspect to consider. Some agencies charge a flat fee for their services, while others may work on a retainer or charge by the hour. Make sure you understand the pricing structure and what services are included in the cost. Kraus Marketing offers a variety of plans to best suit your marketing and financial needs.
Ask for a Proposal
Once you've narrowed down your options, ask the remaining agencies for a proposal. It should include their recommended marketing strategy for your business, the services they will provide, and a detailed breakdown of costs.
We provide a consultative first meeting without the pressure to sign. Let us know what you're working on.
Choose Carefully
Vetting an outsourced marketing agency requires careful consideration of your needs, thorough research, and thoughtful questioning. By following these steps, you can find an agency that aligns with your business objectives and can deliver the results you're looking for.
Kraus Marketing has extensive experience working with enterprise level companies and understands the ever-growing needs of a large company. Contact us today to start revamping your campaigns with a team you can trust.