Get Noticed with These 5 Trade Show Booth Designs
When attending a trade show, no one is looking at the information at first glance; they're looking at the design, which is why your booth design is the quintessential part of gaining attraction. Here are five trade show booth design tips and tricks to ensure you stand out from the competition.
1. Have an Aesthetic
You want an overarching theme and vision for your trade booth design. Keeping consistency and setting objectives for your plan will make it look aesthetically pleasing and more apparent to your message.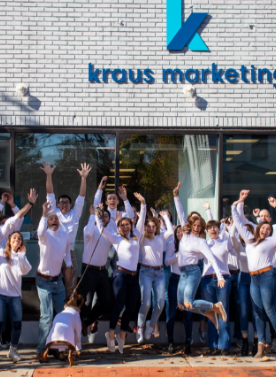 About Us
Full-Service Marketing Agency
We are a full-service digital marketing agency looking to take your campaign or project from concept to finished product, assuring no detail is overlooked along the way.
2. Keep It Simple
You want to keep the space clean when creating your trade show booth design. It is easy to have the urge to put everything on your displays, but it will do more harm than good since it can overwhelm people passing through.
3. Stay Up to Date
By having an aesthetic and keeping it simple, your goal is to have a booth that stands the test of time. Designing a trade show booth can cost time, money, and effort—and you want your design to stay in trend for more than a few weeks or months. Having an outdated trade show booth may give attendees passing by the impression that your company does not keep up with the business world's social, cultural, or media factors.
4. Incorporate Branding
You want to include your business' branding within the booth design to show consistency and to help attendees remember who you are even after they leave and see your business in the real world. This means including your logo, typography, color palette, and even your tagline throughout the booth and any giveaways you may have.
5. Be Interactive
Anyone can have a visually appealing booth design, but keeping the attention of the attendees as they pass by is the most challenging aspect. The main objective is to get them to stay and learn more about your business. To achieve this, considering incorporating interactive elements within your booth such as a virtual game, an Instagram worthy backdrop, a looping video, products on display, and more!
Check out some of our most eye-catching and campaign driven pieces in our established portfolio.
Design Your Trade Show Booth with Kraus Marketing
At Kraus Marketing, we understand the complexities of attending a trade show as well as the endless tasks of attaining all its materials. Let us alleviate that burden and allow us to optimize your trade show experience with our team of talented graphic designers. Contact us today for expert assistance with trade show booth designs.