Navigating the Apple iOS 14 Update for Facebook Ads & Reporting
As a digital marketer or business owner, you may have already experienced the Apple iOS 14 update that began rolling out in the Spring of 2021. iPhone users have reported that they're now being prompted with a popup from Facebook to select whether they consent to third-party websites tracking their personal data. Agencies and businesses that utilize paid advertising on the app, as well as the reporting feature, will need to change their strategy to ensure their paid campaigns are successful.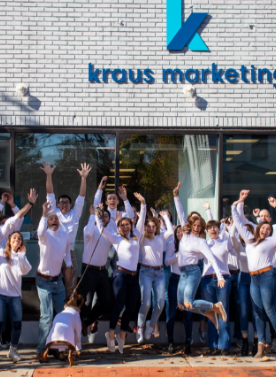 About Us
Full-Service Marketing Agency
We are a full-service digital marketing agency looking to take your campaign or project from concept to finished product, assuring no detail is overlooked along the way.
Why is Third-Party Data Tracking Used in Marketing?
Data tracking is what so many businesses rely on in their social media marketing initiatives. Normally, when a user clicks on a paid ad within your campaign, Facebook gathers their data and tracks the user's actions on the advertiser's website. This is all done through pixels coded into an advertiser's site. As a result, Facebook can better optimize future ads served to that specific user and allow the advertiser to know when a conversion has been made on their site, such as making a purchase or adding items to a cart.
Although some of this insight will be denied regarding iOS users who opt-out of third-party tracking – Apple's way of keeping privacy through their AppTrackingTransparency – there are still steps you can take as a marketer or business owner to continue running a successful paid Facebook campaign.
Stay up to date with the latest trends and ensure your business is making the most out of your digital marketing efforts by checking out our News page.
5 Ways to Run a Successful Campaign on Facebook after the Apple iOS 14 Update
The Apple iOS 14 update does not mean the end of advertising on Facebook, but it does mean we as marketers need to shift the way we do things. Start with these five tips to help optimize your campaign moving forward.
1. Verify Your Website Domain
It is essential that you verify your domain with Facebook using a code they provide to ensure the data collected through pixels is accurate and used appropriately.
2. Change the Way You Segment Audiences
To avoid issues with Apple's update altogether, start segmenting your audiences so that paid ads only target Android devices, as Facebook can still track their data. This may limit your data intake; however, data from iPhone users will be skewed and could interfere with your strategy.
3. Build Your Own Database of Customer Emails
Since it will be difficult to now collect data using pixels, it is important to consider building your own list of privacy-compliant email addresses from past, current, and potential customers. These emails can be uploaded directly to Facebook to create custom or lookalike audiences for targeting purposes.
4. Prioritize Your Pixel Events
The new iOS update will only allow you to implement eight pixel events or objectives on a single domain, reducing the amount of data collected and reported on. It is critical that you look at your marketing objectives and select which eight conversions are most important for you to track. Facebook will automatically assume eight pixel events based on your campaign over the past 28 days; however, you should evaluate manually as well. Any ads you have that aren't in the initial eight will be paused.
5. Switch to Traffic-based Campaigns
Since conversion-based campaigns will most likely see a decline in accuracy, it may be in your best interest to switch over to traffic-based campaigns. This type of campaign will focus on getting users to click through to your website and can still be quite effective.
Partner with an Experienced Facebook Marketing Agency
With so many updates on so many platforms, it can be a challenge to keep up. If you find yourself in this situation, the digital strategists at Kraus Marketing can help. Reach out to us today to discuss a campaign that works with your business objectives.