Use Social Media Content Marketing to Boost Your Campaign
In today's ascending digital empire, social media content marketing is the potent epicenter of…you guessed it—social media and content marketing. This prominent marketing strategy is gobbled up by myriad companies avid to prove their worth to their customer base.
With the ever-expanding cyber abyss bursting daily with novel content creators, the labor of "making your mark" in this unpredictable virtual terrain is certainly a daunting one, especially when lacking an effective marketing approach. Composing a rock-solid content strategy can help ignite the interests of your followers and fan the flame so that your brand stays consistently in the minds of your audience.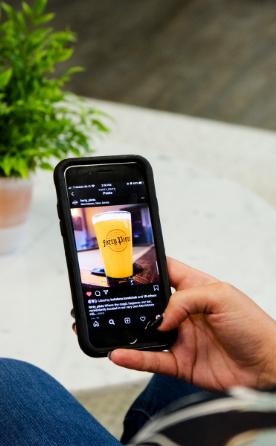 Digital Marketing
Capture Leads, Generate Sales & Find New Customers
Capturing relevant information about customers, fans, followers, and friends enable us to create more personalized interactions. In turn, we can better understand how to provide the best possible experience for our target audience.
Creating Your Unique Social Media Content Marketing Strategy
With content marketing, you're zeroing in on a very niche target audience and pumping out valuable, relevant, and purposeful information over a prolonged period of time to promote a behavioral change on the side of the consumer. Original content, often in the form of blogs, graphics, videos, whitepapers, etc., are put on center stage on social media platforms, allowing your target market to take a desired action in direct response to said content.
Before penning your very own social media marketing strategy, you must determine how you will demonstrate to your audience that you are, in fact, the incontestable leading whizz in your field, as well as content that echoes that narrative!
The first step involves a deep dive into the core of your brand's purpose, including what specific expertise you offer, who your audience is, what they are currently struggling with, and how all three of these points effortlessly align. With these probes, you can craft a mission statement that will be the footing of your strategy.
The second step is to establish which slices of content are most appealing to your audience. This involves conducting purposeful market research into which content pieces would be ideal to capture your audiences' attention and entice them enough to take an action on your website. What's more, you must also decide which platforms your content would be best seen by your target market. Which platforms will be best suited to effectively reach your audience and have followers respond to your message? Instagram, Facebook, LinkedIn, TikTok…the list goes on. Having these queries thoughtfully answered will already give you a heads-up against some of your competition.
Once you've concluded these two steps, fashioned your dynamic campaign and launched in into the digital space, it's time to track your results! Resources like Google Analytics and SEMrush can help you nip and tuck your overall strategy to continue exceeding customer expectations and adapt as the social landscape continues to remodel itself.
We provide a consultative first meeting without the pressure to sign. Let us know what you're working on.
Let Kraus Marketing Create Your Winning Marketing Strategy
Even with the right tools in place, executing an unbeatable social media content strategy is difficult to accomplish solo. Without an experienced team of marketing experts behind you, you could be missing out on a tremendous amount of leads. At Kraus Marketing, we comb our winning marketing strategy through each of our client's campaigns to help grab each audiences' attention and harness long-lasting brand loyalty. Contact us today and let us craft your victorious social media campaign strategy.