5 Types of Instagram Content to Spice Up Your Feed
When it comes to Instagram, many businesses often wonder what's the best type of content they should be posting on their feeds. Today, we're here to explain the top five types of Instagram content that'll help brands build loyal followings, increase their brand awareness, and nurture strong leads.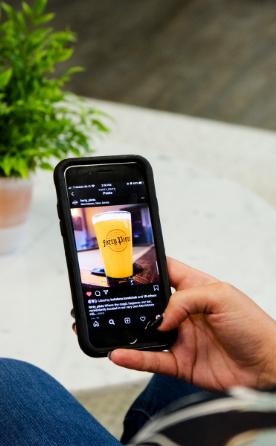 Digital Marketing
Capture Leads, Generate Sales & Find New Customers
Capturing relevant information about customers, fans, followers, and friends enable us to create more personalized interactions. In turn, we can better understand how to provide the best possible experience for our target audience.
1. Organic Content
We've all heard the term "organic Instagram content," but what exactly is it, and why is it essential for businesses to utilize? For starters, organic content on Instagram is comprised of free tools brands can use to create and share content. This can be done by:
Posting in-feed images and videos
Creating stories and reels
Liking and commenting on other accounts
Answering customer inquiries
So, why is it important? By consistently posting organic content on Instagram, a brand can build a loyal community and add a human touch to its content that resonates with its target audience. Great organic content ideas that brands should consider posting include product/service offerings, behind-the-scenes content, educational content, and employee-focused content.
2. Graphics
One of the best ways to engage your audience on Instagram is to create educational, funny, or trendy graphics. When there's text on the image, our brains automatically to decipher the text. Therefore, getting your user to stop their scroll and interact with the post by liking, commenting, and sharing it to their feed is essential.
3. User-Generated Content (UGC)
User-generated content (UGC) is the best type of content on social media right now, and if your brand isn't including it in their social media strategy, now is the time to start. UGC is brand-specific content that's created by the customer rather than the brand. This content is then posted on your brand's Instagram account or other accounts to promote your product/service through real and relatable user-generated content.
To get user-generated content created for your brand, users can either organically create it, or you can sponsor or pay users to post it on your behalf. However, it's important to remember that you must always ask permission and give credit when reposting any content.
4. User Engagement
Engaging your target audience on Instagram is essential. Your brand can accomplish this by running promotions, contests, polls, or utilizing brand-specific hashtags. By using IG features, brands can increase engagement on their posts, which the algorithm favors and can help boost other organic content in the future. Promotions and contests are not only a great way to interact with current followers but also to get them to share or tag friends who likely have similar interests to them.
Capturing relevant information about customers, fans, followers, and friends enable us to create more personalized interactions.
5. Paid Advertising
This includes sponsored posts in feed and story ads. Brands could be missing out on loads of engagement and traffic if they're not utilizing paid advertising. Sponsoring organic content is a good strategy to increase engagement. And high converting traffic campaigns require a lot of planning and management but could bring in a lot of good website traffic. With paid advertising, ads can be shown to a specific target audience depending on your current brand goals to help you reach a new audience or retarget the one you already have.
Create Your Brand's Social Media Strategy at Kraus Marketing
For strategic content creation and paid advertising campaigns, it's best to partner with an experienced agency like Kraus Marketing. We offer digital marketing services for brands across B2B and B2C industries. Reach out to our team to learn more.