Video Marketing Agency: Kraus for Video
Video marketing—it's everywhere. From social media ads to digital billboards to website banners, video captures the attention of the masses. However, this eye-catching marketing asset is not on every brand's radar. Why?
The time, effort, and skill it takes to plan, shoot, edit, and distribute a professional video is more work than companies think. Plus, many brands do not see the value or possible ROI from investing in video. That's when partnering with a video marketing agency is extremely beneficial.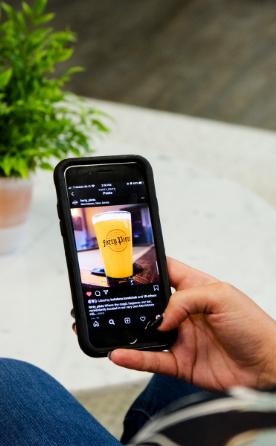 Digital Marketing
Capture Leads, Generate Sales & Find New Customers
Capturing relevant information about customers, fans, followers, and friends enable us to create more personalized interactions. In turn, we can better understand how to provide the best possible experience for our target audience.
What is a Video Marketing Agency?
A video marketing agency, like Kraus Studios, is extremely different than a video production company. We can take it step further by knowing what to do with your video after it's been completed in order to get your company the greatest ROI.
What Does a Video Marketing Agency Do?
Whereas a video production company will stop at step three, we will carry your brand through to step five.
Conduct Pre-Production Planning
Execute the Video Shoot
Complete Post-Production Editing
Build a Marketing Campaign
Measure Analytics and Reporting
1. Conduct Pre-Production Planning
One of our Video Project Managers will conduct pre-production planning to ensure everything during the day of the shoot runs smoothly. This includes ensuring the right people are on location, are dressed appropriately, and have received their script and/or shot list.
2. Execute the Video Shoot
During the day of the video shoot, our team will arrive promptly to set up our equipment before you're ready to get started. We'll also scout out your location for the best filming spots, depending on the type of video being shot.
3. Complete Post-Production Editing
During post-production editing, we'll correct any lighting and noise issues as well as adjust coloring as needed. We can also add any on-screen elements, such as statistics, imagery, text, and more.
4. Build a Marketing Campaign
Instead of simply handing over the video file to your company and hoping for the best, we can build a marketing campaign around the video. Some video campaigns we execute are on Instagram, Facebook, TikTok, and YouTube. A video campaign will increase brand awareness, website traffic, and social media impressions and engagement.
5. Measure Analytics and Reporting
Lastly, we want to make sure you know your video investment paid off. We'll continuously measure analytics from the video campaign and review reporting with your company.
We are a full-service digital marketing agency looking to take your campaign or project from concept to finished product, assuring no detail is overlooked along the way.
What Are the Types of Video Marketing?
If your company feels like there isn't valuable content to share through video—you're wrong. There are many types of video marketing that can benefit businesses across industries. Here are some video ideas to inspire your company:
Product demonstration
Company culture
Behind-the-scenes
Customer testimonial
Employee spotlight
Educational web series
Start Your Video Project with Kraus Studios
If you're company is ready to start a video project, contact Kraus Studios. We'll happily discuss our custom video package options with you to determine what is best for your brand.