The field of digital marketing is always evolving. What worked brilliantly two years ago—sometimes even two months ago—may land flat with your target audience. Business owners must take note of industry evolution or risk becoming obsolete and stuck in the past.
If you feel yourself tiredly chasing after the hottest marketing trends with little engagement or sales from your customers, it's time to change your approach. That's where we come in!
Why hire a digital marketing agency? Kraus Marketing is here to explain.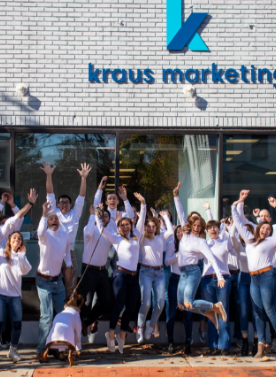 About Us
Full-Service Marketing Agency
We are a full-service digital marketing agency looking to take your campaign or project from concept to finished product, assuring no detail is overlooked along the way.
4 Reasons to Hire a Digital Marketing Agency This Year
Access Resources You Didn't Know Existed
You need it, we have it! Marketing agencies are filled with the latest and greatest tools and resources to benefit their clients. Not only do you get full access to award-winning ideas and strategists, but at Kraus Marketing, you also have a dedicated team working to produce meaningful content, creative, and analytical reports aimed at helping you stay well ahead of the competition.
Budget-Friendly Alliance
Who doesn't love saving money? That's what you'll do when you hire an outsourced digital marketing agency. Instead of paying a full-time employee their salary, not to mention healthcare and other necessary benefits, a marketing agency actually turns out to be more cost effective. Plus, you gain access to the additional technology and specified skills that bring you better results, for less!
Stay Relevant in Your Industry
Are you starting to fall short of your competition? Part of hiring a marketing agency means they spend time researching all about your industry, your business, and your competitors. This may even mean in-depth meetings or questionnaires with members of your company. Agencies often find new strategies and platforms/mediums that work for the current state of your business and its growth trends.
Sit Back and Focus on Your Business
Now that an adept marketing agency is spreading your brand's powerful message across different channels, generating positive news about your valuable products, and providing visibility to your website, you can sit back and focus on other vital company matters. A marketing agency like Kraus Marketing has the capability to help with as much as you need and will involve you in as little or as much of the process as requested based on your busy schedule. Regardless, we'll make sure to send you consistent campaign metrics to keep you informed about our efforts.
We provide a consultative first meeting without the pressure to sign. Let us know what you're working on.
Hire a Digital Marketing Agency Like Kraus Marketing
Don't let your company and its strategies stay stuck in the past. Digital marketing has never been more imperative, and by partnering with Kraus Marketing, we'll take the necessary steps to craft, streamline, and optimize your marketing strategy for 2023. Contact us today work closely with our experts.