NJ Based Branding Agency Talks 'How to Build a Brand Story'
It's essential to work on building a genuine connection with your audience. A well-crafted brand story can help you connect with customers on an emotional level, driving loyalty and sales.
At Kraus Marketing, we know how to build a brand story that resonates with your target audience. Our team of experienced branding professionals will work with you to develop a story that captures the essence of your company and communicates your unique selling proposition. We'll help you stand out from the competition and reach new heights in success.
Keep reading to learn how to build a successful brand strategy.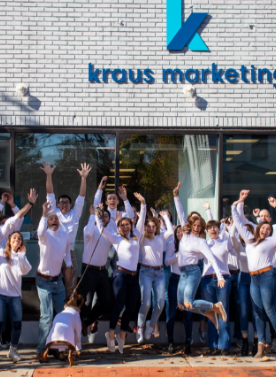 About Us
Full-Service Marketing Agency
We are a full-service digital marketing agency looking to take your campaign or project from concept to finished product, assuring no detail is overlooked along the way.
What to Consider When Building Your Brand Story
A strong brand story is essential for any business. It helps customers understand who you are, what you stand for, and why they should choose you over the competition. When developing a brand story, you should include what makes your brand stand out from others in your industry.
Here are some questions to consider when evaluating your brand story:
What unique features does your brand have?
What products/services do you provide that no one else has thought of yet?
How can you differentiate yourself?
What does your brand know that few others in your industry do?
What is your brand's core purpose or values?
Do You Know Your Brand's Core Purpose?
Can you clearly define your brand's purpose? Every brand has some sort of mission behind it that drives what they do day-to-day. Whether that mission comes from social responsibility, changing an industry standard, or providing quality service to their customers, brand stories are meant to act as the voice through which these missions are communicated to consumers. It can be challenging to determine how best to appeal to potential clients, but having clearly defined brand values will make this process much more manageable. Your audience will resonate with your mission and see it through empathetic eyes, growing your connection.
Finding Your Brand's Personality
A brand's personality is comprised of the emotions, character traits, and motivations that it represents to consumers when engaging with them through marketing messages or brand experiences. Strong brands with distinct personalities are usually able to establish solid relationships with their audience for this reason. Establishing trust and credibility by providing what they promise, without compromising their values along the way, is a step forward in making an impact on the consumer.
We provide a consultative first meeting without the pressure to sign. Let us know what you're working on.
Elevate Your Brand Story with Kraus Marketing
So, how can you ensure your brand story is as captivating as it can be? By working with an experienced and innovative marketing agency like ours. We have the knowledge and expertise to help you build a brand story that will resonate with your target audience and set you apart from the competition. Contact us today to learn more about our branding services and how we can help you elevate your business to the next level.