Align Your Marketing Efforts with the Drop in Consumer Attention Span
An average of 8 seconds. That's what data scientists and media analysts believe is now the average consumer attention span. Ever wonder why apps like Vine (R.I.P) and Tik Tok are so popular? Or why tweets only extend to 280 characters? These examples offer short bursts of content with easy-to-use features that can match our real-time thinking. Even Tinder's UI takes advantage of people's instinctual thinking with their swiping mechanics. How people absorb information these days, especially young people, is through quick intakes. Technology and advertising needs to meet the consumer in a fast-paced world.
Consumers claim they want substance but won't stick around for it if there's an uninteresting precursor. Don't waste time and money creating ads that will be skipped, ignored, or avoided. Work with Kraus Marketing to align your marketing efforts with the drop in customer attention span.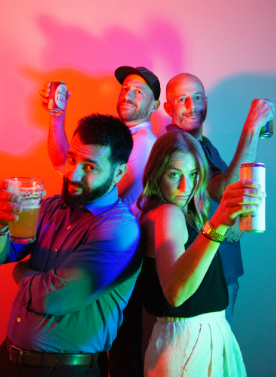 Our Team
Home of the Creatives
At Kraus Marketing we combine great ideas with hard work and a dedicated team of projects managers, designers, web developers, Google certified digital strategeists, and copywriters.
How to Keep Consumers Engaged
You can do several things to address the overall drop in attention people are giving to your ads. Some ideas are more unique and involved than others, but all of them are vital options to reinvigorate your marketing efforts with better, more engaging content.
Simplify Your Data
Keep it simple. The goal of any piece, blog post, or video should be to make the reader understand one main idea and then convey that in as few words as possible. This can also be represented in a graphic; focus on articulating one major point. If you're sharing data, make sure your findings are the most significant part of the post, drawing people in. Consider using a graph to convey a visual element to data as well. Remember, push forward credible information and be conscious of your audience's taste. Be sure to cite your sources in the caption or at the bottom of a graphic.
Include Music in Your Social Posts
Marketing and forming a genuine connection with your audience can still be done within the time span of 8 seconds. A creative way to keep the consumer interested in your social advertisement is to add music. Music helps draw people into your message and can set a ton for what you're selling. Royalty-free music is an excellent option for accompanying quick videos, like Instagram Reels. You can also visit Tik Tok's For You Page and see what sounds and hashtags are trending. Follow trends and see which sounds are the most popular, then create a video using that sound.
Utilize Closed Captions
A significant fact that most marketing companies aren't noticing is the popularity of using closed captions for social posts. First and foremost, adding closed captions allows for a more diverse audience to access your media. This is a great way to bring your product to differently abled consumers. Similarly, adding alt text to any photos you post can help those who are visually impaired or blind consume your content without assistance.
Closed captions are also advantageous because they appeal to people scrolling on the go. People often don't have headphones to hear what your marketing team spent thousands to create, and they'll scroll right past your largely audio-centric ad. Use closed captions for all your ads and consider using a more visually captivating image to go along with your campaign. Visuals are more enticing than good audio in an advertisement where the average consumer's attention span is super short. Did you know? People are 65% more likely to remember content if it contains pictures. It's called the picture superiority effect, and comes into play in the world of online advertising.
We provide a consultative first meeting without the pressure to sign. Let us know what you're working on.
Turn to Kraus for Modern Advertising Solutions
The evolution of consumerism, the need for instant gratification in media marketing, and the overall push towards are more inclusive media landscape is truly moving the advertising industry forward. Closed captions should be a priority for all agencies to understand and employ, and create largely visual ads that focus on just one topic. If you're eager to find the perfect advertising solution for your product or company's needs, reach out to the experts at Kraus for a conversation about your brand's future.