Must-Try Holiday Beauty Ads: Campaign Ideas
While having a solid marketing campaign set in place year-round for beauty-based brands is fundamental, the holiday season is one of the most critical times to have a strategic marketing campaign put in place.
Let's take a look at the importance of having a strong holiday beauty ads campaign this year.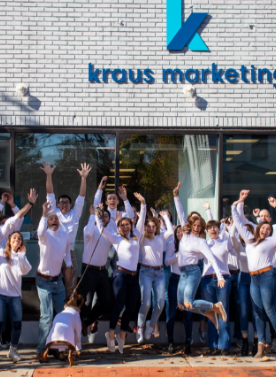 About Us
Full-Service Marketing Agency
We are a full-service digital marketing agency looking to take your campaign or project from concept to finished product, assuring no detail is overlooked along the way.
The Importance of Creating a Holiday Beauty Ads Campaign
You may be wondering, why is having a holiday marketing campaign important? Well, the holiday season is one of the busiest times of the year for e-commerce and brick-and-mortar sales. In fact, according to Insider Intelligence, total US holiday retail sales in 2021 will rise 2.7% to $1.093 trillion, e-commerce sales will increase 11.3% to $206.88 billion, and e-commerce will account for 18.9% of total holiday season retail sales.
Within the competitive market that the beauty industry is in, having a successful ads campaign is essential to securing new sales, raising brand awareness, and attracting new consumers. To do this, beauty brands must be diligent when creating effective holiday beauty ads.
3 Festive Holiday Beauty Ads to Try This Year
Create a Seasonal Google Ads Campaigns
Creating a Google Ads campaign is an excellent way to target holiday shoppers. Finding target keywords that relate to your beauty brand is critical to running a successful Google Ads campaign. Once you create these keywords, developing specific ads and landing pages that offer incentives for your consumers to shop for your products will garner website traffic and boost potential sales.
Implement Instagram Holiday Ads
On Instagram, holiday ad opportunities are endless. Instagram is the perfect place to target your consumers while they're already consuming content. Whether you integrate photo ads, video ads, or story ads, Instagram has many tools to help you boost your seasonal sales this year. To add a festive flair to these ads, consider using cheerful copy, holiday music, seasonal images, and, most importantly, a clever call to action to solidify your sales.
Re-targeting but Make it "Festive"
Creating a re-targeting campaign during the holidays is essential to getting potential consumers to interact with your brand again. A successful re-targeting campaign will directly serve ads to people who have already visited and interacted with your website. This can increase potential sales and get people who didn't convert the first time to come back and hopefully make a sale.
We provide a consultative first meeting without the pressure to sign. Let us know what you're working on.
How Kraus Marketing Can Help This Holiday Season
At Kraus Marketing, we have extensive experience working with beauty brands to create successful ad campaigns. If your beauty-based brand is looking to expand its marketing efforts this holiday season, don't hesitate to reach out to our digital strategists. We look forward to marketing with you!