Use Our Trade Show Success Strategies to Elevate Your Brand
Trade shows are a fantastic opportunity for companies of all statures to showcase their value to potential customers and industry peers. However, with so many businesses vying for attention, with poor preparation or presentation, your booth will be lost in the noise. It's time to elevate your presence with our refreshing and innovative trade show success strategies and start leaving a lasting impression on attendees.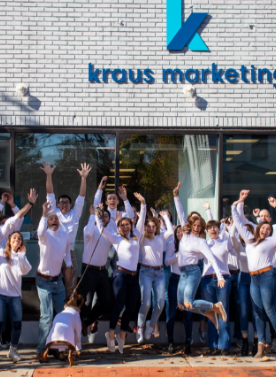 About Us
Full-Service Marketing Agency
We are a full-service digital marketing agency looking to take your campaign or project from concept to finished product, assuring no detail is overlooked along the way.
1) Upgrade Your Display
Your booth display can make or break your trade show success. To help your brand stand out, utilize high-quality graphics in your banners and throughout your setup to better convey your brand's messaging. What's more, take advantage of the space by adding your own touch to it. Add colorful accent lighting or bright spotlights, incorporate soft carpet or eco-friendly flooring, and confirm that all materials coincide with your brand's colors and atmosphere.
Interactive displays are also big at tradeshows, which can present your company in a fun, engaging way to encourage attendees to interact with your brand and learn more about you.
2) Don't Forget the Giveaways
Additionally, incorporating unique giveaways like custom pens, Bluetooth key finders, wireless chargers, hats, etc., can help keep your brand and services in the mind of attendees after they leave. Make sure you choose items that people will be excited to use and not throw in the trash. A stellar tradeshow giveaway, like branded umbrellas on a rainy day, lip balm on a chilly day, etc., is a gift that keeps on giving, brings value to your brand, and dares to think outside the box.
3) Geotarget Your Potential Attendees
With today's advanced technology, you can reach your audience before they even step foot at a trade show! Geotargeting is a brilliant marketing tool that targets users' geographic location and flaunts your relevant ads to them. Exposing your potential audience to your brand and where to find your booth at the upcoming tradeshow will compel them to visit your booth and learn more about what your brand offers. It can also boost your local SEO and drive clicks and leads back to your website.
4) Make It a Comfortable Oasis
In a constricted, busy environment, people need a place to relax and recharge. Create a tranquil, welcoming space where attendees can take refreshments, enjoy comfy seating, and charge their devices. This strategy will help your booth stand out amid a busy trade show floor and generate a positive association in the minds of attendees, who now feel they can depend on your brand.
We provide a consultative first meeting without the pressure to sign. Let us know what you're working on.
Stand Out with Kraus Marketing
Want trade show success strategies that will convert more potential customers? Kraus Marketing is seasoned in utilizing emergent technology and following societal shifts toward prevalent marketing trends and tactics to capture and secure audience attention. We know how to deliver unforgettable experiences online and offline, and we can help your brand do the same. Contact us today to get started.