Is Squarespace or WordPress Better?
Squarespace or WordPress? This is a question that many businesses face when they are starting their website. While both platforms have their pros and cons, we've found that WordPress is the clear winner, and here are six reasons why.
1. It's Trusted-Worldwide
Did you know? WordPress is used by over one-third of all websites on the internet, while Squarespace powers 1.2 million websites. This is because WordPress is more flexible and scalable, offering hosted and self-hosted options. Squarespace, on the other hand, isn't as flexible since you have to use their hosting on their servers.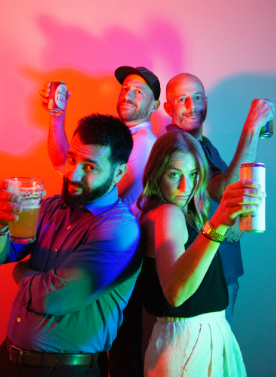 Our Team
Home of the Creatives
At Kraus Marketing we combine great ideas with hard work and a dedicated team of projects managers, designers, web developers, Google certified digital strategeists, and copywriters.
2. It's More Versatile
One of the biggest advantages of WordPress is that it is incredibly versatile. You can use WordPress to create any kind of website you can imagine, from a simple blog to a complex eCommerce site. This is because you're able to edit the code as much as you want, thanks to WordPress's GPL 2.0 license, giving users the freedom to make changes that suit their needs. Squarespace, on the other hand, is limited to certain types of websites and goes so far as forbidding you from trying to reverse-engineer their code or platform.
3. It's Very Affordable
Another advantage of WordPress is that it is more affordable than Squarespace. While both platforms offer different pricing plans, WordPress is generally cheaper than Squarespace. This is because WordPress is an open-source platform, which means that there are no licensing fees. Squarespace, on the other hand, is a closed-source platform, which means that you have to pay for a license to use it.
4. Has Extensive Themes & Plugins
Because WordPress is so popular, there are thousands of themes and over 59,000 free plugins available for it. You can find a theme or plugin for just about anything you want to do with your website, whether it's adding a contact form to a contact page or adding SEO to help visitors and search engines get the most out of your website. Squarespace also has themes and plugins available, but nowhere near as many customization capabilities as WordPress.
5. You Can Have Domain Ownership
WordPress is the way to go if you're looking for complete control over your website's domain. You can choose any Registrar you want, which means you can shop around for one that best suits your needs and offers WHOIS privacy. Additionally, WordPress lets you own your domain outright, something that Squarespace doesn't allow.
On the other hand, Squarespace's free domain automatically includes WHOIS privacy. This means that Squarespace becomes the main contact for your domain and legally owns it. Depending on your perspective, this can be seen as an advantage or a disadvantage. If you ever want to change ownership of a Squarespace registered domain, it would be a lengthy undertaking.
We provide a consultative first meeting without the pressure to sign. Let us know what you're working on.
6. It's SEO-Friendly
Last but not least, WordPress is more search engine-friendly than Squarespace. This is because WordPress websites are generally better coded than Squarespace websites. As a result, WordPress websites are more likely to rank higher on search engine results pages.
Create Your Website at Kraus Marketing
Kraus Marketing is your one-stop shop for website design and development. Our team of experts will work with you to create a stunning website that accurately reflects your brand and resonates with your target audience. Contact us today!