Here are some valuable marketing lessons to take away from Valentine's Day.
Choose Quality over Quantity
What would you rather receive – a hand-made, thoughtfully crafted card, or a few, sub-par chocolates? A well-crafted card wins over hearts – and well-crafted marketing wins over conversions. Instead of delivering a high volume of low-quality marketing, focus your efforts on creating memorable content that will stay with your audience beyond the holiday.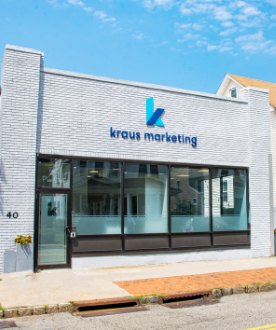 Contact
Let Us Earn Your Business
We provide a consultative first meeting without the pressure to sign. Let us know what you're working on.
Stay Away from Generic Messaging
The best love letters are far from generic. A+ Valentine's Day cards have wording that gets into specifics – acknowledging the recipients attributes, likes, dislikes, and specific details. This type of messaging helps build the emotional connection and draw them closer.
Your marketing should also be this way. Building messages that are more tailored to your audience will help them become more emotionally invested in your business. Its important to take into account the end receiver's behaviors and demographics so you can build the right messaging around it.
Capturing relevant information about customers, fans, followers, and friends enable us to create more personalized interactions.
Use different mediums to express yourself
We all love receiving Valentine's Day cards. But who doesn't love receiving chocolates too? And how about a bouquet of flowers? Having someone express his or her feelings to you in multiple outlets makes the message sink in deeper.
This idea also goes in hand with marketing. Delivering a message throughout multiple mediums– such as email, social media, mobile marketing and more – helps solidify your message with your target consumers.
Don't limit your efforts to special occasions only
Although getting gifts and showing appreciation on Valentine's Day shouldn't go unnoticed, the kind words and affection should be given out throughout the course of the year. Likewise, you shouldn't limit your marketing efforts to only big events or special occasions.
Building long-term relationships with consumers is about keeping consistency. If you limit your efforts to only specific times of the year, you're loosing the opportunity to build those relationships and emotional connections with your target audience. Consider making these connections during off-peak times, as your message will have much less competition and is more likely to stand out compared to "expected" times.
Conclusion
So what is the marketing takeaway of Valentines Day? Businesses should focus their marketing efforts on great-quality messaging while promoting it to their customers throughout the year. Here at Kraus Marketing, we understand and implement the specific aspects that help drive a successful marketing campaign. We specialize in social media marketing, SEO, and all aspects of branding and web design. If your business needs help in any of these areas, visit our website or give us a call at 973-998-5742.