Fall Marketing Ideas That Will Inspire Those Cozy Feelings
Follow our guide on how to boost your business growth by actively participating and staying updated with fall marketing ideas to enhance engagement!
1. Embrace an Autumn Aesthetic
Get into the cozy and nostalgic fall vibes by implementing autumn-themed colors and graphics into your marketing efforts. Use warm tones and fall imagery to create a visually appealing and inviting environment. Some examples of this are sending fall-themed emails to your client list and having your blog and social media posts be in the fall spirit. Utilizing this aesthetic for the season will grab attention and promote your business endeavors.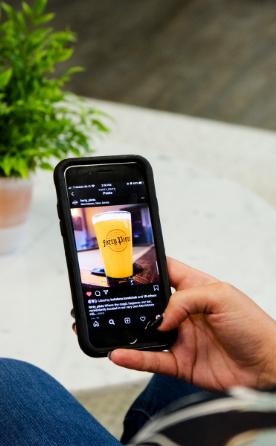 Digital Marketing
Capture Leads, Generate Sales & Find New Customers
Capturing relevant information about customers, fans, followers, and friends enable us to create more personalized interactions. In turn, we can better understand how to provide the best possible experience for our target audience.
2. Support a Cause
October is Breast Cancer Awareness Month, so consider promoting this critical cause. You can partner with a local charity that supports breast cancer research, donate a portion of your sales to the cause, or run a fundraiser to raise awareness and funds. Not only does this help your community, but it promotes corporate social responsibility.
3. Only for Autumn Promotions
Don't be afraid to get into the fall spirit with timely promotions. This is an excellent opportunity to be creative while increasing your sales. Fall-themed promotions or packages can help generate excitement and encourage customers to engage with your brand as they too are in the seasonal spirit. You can also include gift cards to the local farmer's market or other local attractions to promote businesses in your area—creating a possible partnership for future promotions!
The Benefits of Implementing Seasonal Marketing Strategies
Implementing seasonal marketing strategies, specifically for fall, can bring several benefits to help your business. Offering specialty fall promotions will increase engagement with your customers and create customer loyalty.
We provide a consultative first meeting without the pressure to sign. Let us know what you're working on.
Let Us Help You Stand Out This Fall
Kraus Marketing is here to lend a hand regarding your seasonal marketing efforts. We specialize in creating impactful seasonal campaigns that can help boost your ROI and brand recognition. From assistance in strategic planning and creative design to social media management and more, our team has expertise in all areas and is ready to collaborate with you. Let us help you stand out this season and achieve your marketing goals. Contact Kraus Marketing today for personalized assistance.