5 Factors to Consider When Choosing the Right Agency for Your Brand
When it comes to building a successful brand, partnering with the right marketing agency can make all the difference. A marketing agency can help you craft a compelling brand story, develop effective marketing strategies, and reach your target audience. Yet, with so many agencies to choose from, how can you ensure you're selecting the right one for your business?
Let's take a look at five key factors to consider when choosing the right agency for your brand.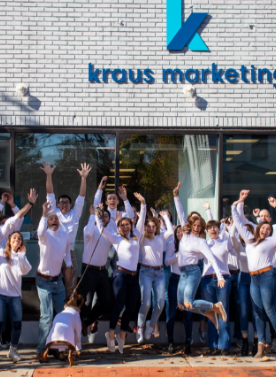 About Us
Full-Service Marketing Agency
We are a full-service digital marketing agency looking to take your campaign or project from concept to finished product, assuring no detail is overlooked along the way.
1. Expertise & Experience
One of the first factors to consider when choosing the right agency for your brand is their expertise and experience in your industry. Every industry has its unique characteristics and challenges, so working with an agency that understands your niche is essential.
An easy way to determine whether the agency is right for you is to look at their portfolio and see whether they've worked with brands similar to yours. Their industry knowledge and understanding will help them create targeted strategies that resonate with your audience and drive results.
2. Services Offered
Another key factor to consider is the range of services offered by the marketing agency. Do they offer branding and logo design? How about social media marketing and SEO? It's beneficial to work with a full-service agency that can handle various aspects of your brand's marketing, as it ensures a cohesive and integrated approach.
3. Communication & Collaboration
Working with a marketing agency that demonstrates effective communication and collaboration is essential in building a successful partnership. It's vital to pay attention to the agency's communication style and responsiveness during the initial stages of your interaction with them. Are they attentive to your needs and goals? Do they provide clear and timely updates?
Additionally, consider the agency's willingness to collaborate with your brand. A great agency will value your input and involve you in the decision-making process, treating your brand as a true partner rather than just a client.
4. Cultural Fit
An often underestimated factor that's crucial to a successful partnership is to consider whether the agency matches your brand's culture. It's essential to take the time to understand the agency's core values, work culture, and approach to client relationships to ensure a seamless integration with your brand.
One simple way to assess if the agency is the right cultural fit is by reviewing testimonials and case studies from their past clients. These testimonials provide valuable insights into how the agency operates and the experiences other brands have had working with them. While reviewing these testimonials, pay close attention to clients with similar values and objectives to your brand, as their feedback will be particularly relevant.
5. Client Relationships
The last factor to consider is the agency's approach to client relationships. How do they interact with their clients? Do they prioritize building long-term relationships based on trust and transparency?
A good marketing agency will take the time to understand your brand's unique needs and goals. They will listen attentively, ask relevant questions, and develop a deep understanding of your brand and its target audience. This level of engagement ensures that your brand's voice and vision are effectively translated into marketing strategies.
We provide a consultative first meeting without the pressure to sign. Let us know what you're working on.
Take Your Brand to the Next Level with Kraus Marketing
As highlighted above, choosing the right marketing agency for your brand can significantly impact your business's success. At Kraus Marketing—the home of the creatives—we understand the importance of selecting the perfect agency to meet your brand's needs. With our in-house team's expertise and commitment to effective communication and collaboration, we are dedicated to taking your brand to the next level. Reach out to us today to discuss how we can help your brand thrive.