The Importance of Pandemic Packaging Trends
Shifts in the world of packaging have never moved faster than when COVID-19 began to spread. We can all vividly recall those first few weeks the public stayed inside and anxiously awaited answers. During that time, shipping and shopping would come to an unexpected halt, shaking up the economy and changing businesses indefinitely.
During the pandemic, a renewed interest in protecting the planet from harmful plastics took center stage, a notable example being Starbucks and its straw situation. Also, the e-commerce industry for grocery shopping has increased dramatically to keep up with our new way of living. While we try and return to normal, the packaging trends may have been changed forever by the many stresses put forth by the COVID-19 pandemic.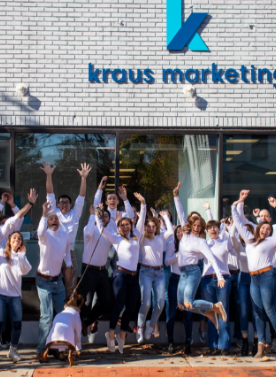 About Us
Full-Service Marketing Agency
We are a full-service digital marketing agency looking to take your campaign or project from concept to finished product, assuring no detail is overlooked along the way.
Where and How Are People Shopping
With country-wide anxiety on the rise and the pandemic an ongoing issue, the stress of infection is going to remain in consumers whenever they leave the house. Every person handles the risk differently, but several shoppers exhibit that fear most when venturing into public spaces. Even though many malls have closed their doors and several small businesses have shut down, people still are searching for that authentic connection with a product before buying it. People are still buying; you just need to make what and where they are buying feel safe to them.
Many of these shoppers are seeking a feeling of safety when entering your store and that the item they selected wasn't contaminated by others, either in-store or in transit. Updated packaging can ease these points of contention and assure your consumer that no trace of the coronavirus is present. The National Institute of Health said traces of the coronavirus can remain "…up to 24 hours on cardboard and up to two to three days on plastic…". This leads to a lot of shoppers sanitizing their groceries, take out boxes, and other purchased items.
Alternatively, some Americans are finding that grocery stores might be too dangerous for them to navigate during this pandemic. Many of these anxious shoppers are eliminating the risk of infection altogether and turning to e-commerce to grocery shop. Online shopping is a safe solution with varying options, from delivered meal kits to grocery bag drop-offs. Online grocery sales grew 54% in 2020 to over $95 billion. It also accounted for 7.4% of all grocery sales, projecting a 4% increase by the year 2023. That number is expected to gradually increase as more people are turning towards outsourcing their shopping.
What Trends Shoppers Are Looking For
There are many ways to adjust your current packaging to mirror the growing trends of COVID safety, eco-consciousness, and bulk buying.
Sanitation Concerns
Despite promises of safety and updated packaging, many people still sanitize their groceries after picking them up. In these stressful times, people are taking a risk by bringing your product into their homes. That makes it the responsibility of the supplier to offer a safe and COVID-conscious solution to traditional packaging.
Ecological Concerns
A shifting trend that many companies are heavily aware of is the push for a greener, biodegradable packaging material. After the shock of the pandemic sent us inside to ruminate about our mortality, people were able to get a better understanding of their carbon footprint. This mass attention to the climate crisis put companies in a position to either seek change or continue piling trash.
We've seen over the last few years a big effort to appeal to Earth-conscious shoppers. The rise of metal straws, new plastic Snapple bottles, and so many other changes to appeal to this wave of eco-friendly consumers. Some companies have adopted biodegradable packaging materials like bioplastics, corn foam, and mushroom-based packaging. Not only are these good for curbing pollution, but these materials are incredibly porous, meaning they are more likely to kill virus particles and bacteria more quickly than typical plastic packaging. Transferring to a more sustainable packaging could also benefit in stopping COVID transmissions through your products.
Bulk Buying
It has become a recent trend that people are buying in larger quantities, likely to limit visits to the grocery store. Some items, and their packaging, are shifting to a bulk option to accommodate this demand. This alters the packaging and allows for a greater number of products to be sold.
Our team continually strives to deliver exceptional work to each of our clients, which requires us to stay on top of industry updates and advancements.
Work with Kraus Marketing to Design Your Dream Packaging
No matter how your business changes throughout this pandemic, Kraus Marketing understands how important it is to be up to date on all changing trends. Finding solutions that are COVID-safe, eco-friendly, and fit the changing needs of consumers is what new packaging can bring. Contact us if you want to learn more about the top packaging trends on the market.