How to Maintain a Successful Blog for Your Target Audience
Putting your very own blog into orbit can be a thrilling, yet daunting experience.
Sharing a drip of your beliefs, expertise, and company or personal updates may seem straightforward, but there's actually much more to it.
With an ocean of outstanding content already in the digital space, how can you make sure your blog makes waves?
We've combed through the customs of highly effective bloggers so you don't have to. Read on to learn how to maintain a successful blog your readers will treasure.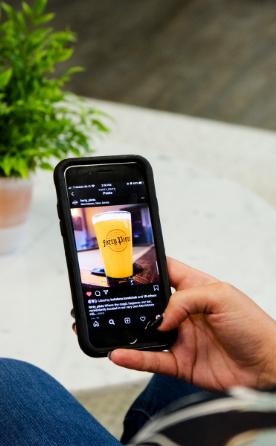 Digital Marketing
Capture Leads, Generate Sales & Find New Customers
Capturing relevant information about customers, fans, followers, and friends enable us to create more personalized interactions. In turn, we can better understand how to provide the best possible experience for our target audience.
Amplify Your Exclusive Angle
When mapping out your blog's trajectory, what distinct perspective can you offer that may leave a lasting impression on readers? Contemplate what unique experiences make you a trusted expert on certain topics, the problems you can solve for your readers, the extensive research you've conducted to reinforce your perspective, etc.
Offer Easy Reading
Research has proven that instead of reading every last morsel of copy, readers will swiftly scan pages for useful information. That's why it's crucial to keep your written language as clear and conceivable as possible. To break up the text, you can include captivating pictures, bullet points, or numbered lists where you see fit.
Optimize Your Post
Ensuring your blog is "SEO-friendly" means you are redressing your content to appear to a broader audience. Blog posts that utilize strong SEO tactics can provide you more opportunities to rank higher in search engines. It's ideal to use marketing best practices, like identifying your target audience, conducting keyword research, optimizing your title tags and meta descriptions, including image alt tags, and linking to related blog posts.
Compose Eye-Catching Titles
Catchy blog titles inspire considerable social clicks and sharing. It captures the audience's attention and implies a promise of value the reader will receive in the blog post. Since you're constantly shouldering other accomplished bloggers who are most likely discussing similar topics, make sure your title really packs a punch!
Capturing relevant information about customers, fans, followers, and friends enable us to create more personalized interactions.
Proofread
Finally, before you hit the "publish" button, eyeball your post once more for any spelling or grammar mistakes. Such trivial mistakes as these will hinder your credibility with your audience and can damage your SEO, since search engines don't appreciate poor copy. Proof-read every inch of your masterpiece before presenting it to the public!
Successful Blog Strategy in 2022
Need to re-vamp your digital strategy? Our blogging gurus at Kraus Marketing understand what it takes for your blog to stand out and hold a captivated audience. We have helped compose successful digital strategies for businesses in all industries. Contact us today to start implanting an award-winning marketing strategy seamlessly fit for your company!