Instagram Marketing 101 for Small Businesses
Instagram is a growing platform that people around the globe use every day. To maximize its marketing impact, there are important tips that every small business should follow. By utilizing these, you can not only increase brand awareness, but also drive more traffic to your site.
Read our Instagram Marketing Tips 101 post to learn why you should create a perfect profile, use hashtags, invest in advertising, and review your data.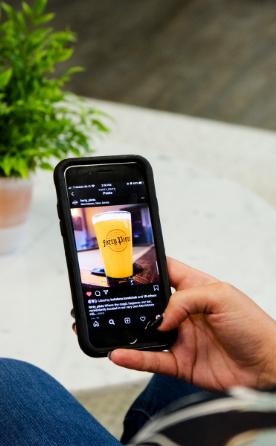 Digital Marketing
Capture Leads, Generate Sales & Find New Customers
Capturing relevant information about customers, fans, followers, and friends enable us to create more personalized interactions. In turn, we can better understand how to provide the best possible experience for our target audience.
Tip 1: Create the Perfect Profile
When users stumble across your profile, it's important that it represents your brand's overall message. Always include a catchy bio that will draw in your target audience. A good profile will also include your website link or a link to an important page relating to your brand. This gives users the chance to find out more about your brand and drive more traffic to your site. In addition, it's important that you set up your Instagram profile as a business account so that you can access a full range of advertising tools.
Tip 2: Hashtags are Key for Every Post
Hashtags allow users to filter for specific content and follow which tags interest them. By adding relevant tags onto the post's caption or comments, you will increase brand awareness. It's important to always include a few important hashtags that represent your brand. However, try not to include too many, as your content may appear to users as spam.
Tip 3: The Best Tools for Advertising
Instagram allows users to buy social ads, create stories, and post reels. Social ads are super simple and help boost your brand's reach on Instagram. With millions of users on the platform, you are increasing your chances to build a larger audience. You can also have some fun with posting on your story or posting videos about new products you may have, giving users insights into your brand.
Capturing relevant information about customers, fans, followers, and friends enable us to create more personalized interactions.
Tip 4: Review Your Data
After creating your posts, you should review how your users are engaging in your posts. Some important metrics to track include how many followers you are gaining, the optimal posting time, and how many viewers have viewed your page. These metrics can show your business if the content you are creating is engaging enough or if it needs to be changed.
Learn More About Instagram Marketing
Does your small business need help advertising on Instagram? Well, you've come to the right place. We have a team of experts who create engaging content for our clients on a variety of social platforms. Contact us today to get started.