How Much Time Do People Spend on Social Media? Let's Talk Social Media Marketing
The average time of 144 minutes per day spent on social media provides marketers with over two hours per day to attract potential consumers, highlighting that social media is an essential aspect of a brand's marketing strategy. In fact, social media usage has been rising steadily since 2012 and has since increased over an hour per day over the past decade.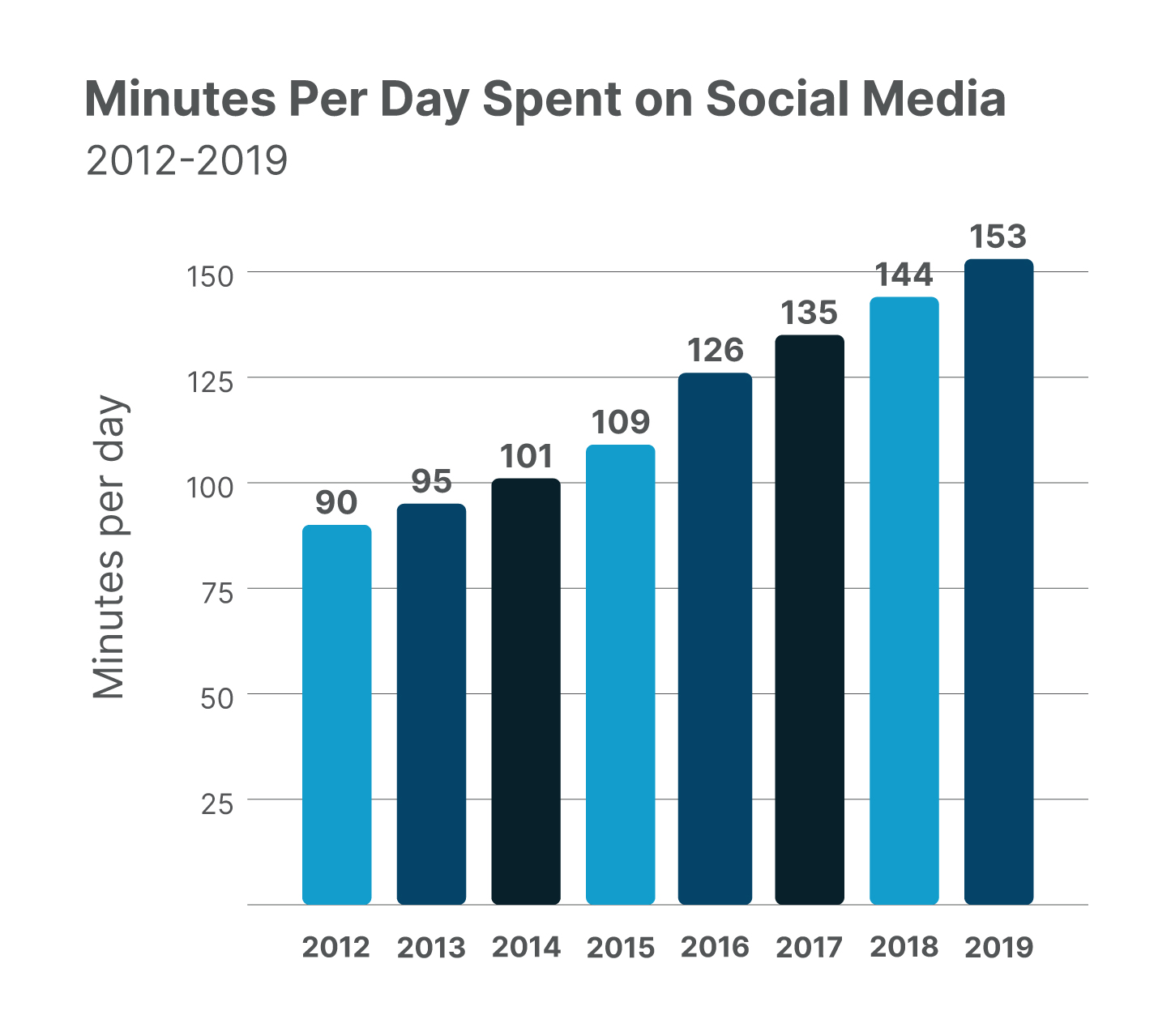 By having an active presence on top social platforms, brands can connect with customers, increase brand awareness, and boost potential leads and sales. With all of this time spent on social media, marketers should be using this to their advantage.
Average Time Spent on Each Social Platform

Facebook
Facebook has experienced a slight decline in users for the first time in their 15-year company history. However, this decline is only about 15 million out of their 3 billion total users (0.5%). The most significant drop in users being amongst teen users and millennials due to their use of other popular platforms such as YouTube and TikTok. Despite this, 59% of Facebook's total users are between 18-34 years old, with users spending about 58 minutes using the platform per day.

Instagram
At 5 minutes less than Facebook, Instagram users spend an average of 53 minutes on the platform daily. This platform has the most extensive user base, with over a billion users globally, 800 million monthly users, and over 95 million posts uploaded per day. This highlights the platform's rich marketing potential and reach

YouTube
In third place, YouTube has a daily time spent of 40 minutes per day. Although YouTube's 30 million daily users are no match for Facebook's 1.5 billion daily users, YouTube has the second-highest time spent on the platform, with over 5 billion videos uploaded daily. YouTube is also the second largest search engine, only behind Google – which is important to keep in mind when considering advertising capabilities.

TikTok
Although only launching internationally in 2018, TikTok has already reached 1.5 billion downloads globally, 800 million active users per day, and has become Gen Z's social platform of choice. As a result, users are currently spending an average of 45 minutes on TikTok daily. If your brand's primary target audience falls under the category of Gen Z, you definitely want to incorporate this platform in your marketing efforts.

LinkedIn
Although it's the oldest of the social platforms, LinkedIn's 546 million users are only active for about a minute per day. Despite this statistic, the professional platform has over 200 million monthly active users, 20 million company pages, and gains over 5 million new accounts monthly. Though the time spent using the platform is lower than others, the value remains strong for certain industries such as IT, financial services, B2B companies, and more.
How to Use these Statistics to Your Brand's Advantage
One of the first places consumers go to connect with your brand is social media. Having an active presence on different social media platforms can help increase brand awareness and boost potential website traffic. Here are a few ways Kraus Marketing can help brands use social media to their advantage:
Create and Share Quality Content
Your brand should be sharing original, educational, and entertaining content to appeal to your target audience. Creating valuable content for your followers ensures they will continue to support your business on social media.
Understand Your Audience
Utilizing social media marketing is effective due to the ability to hone in on your target audience. But to do that, you must first determine who they are. Social platforms such as Facebook and Instagram have their business analytics set to provide marketers with crucial information about their audiences.
Develop a Social Media Marketing Strategy
A social media strategy essentially details and outlines all of the goals that a brand seeks to accomplish on social media. Once your brand has a solid strategy in place, you can begin reaping social media marketing's benefits.
If you're looking for ways to implement social media marketing into your campaign strategy, don't hesitate to reach out to the digital strategists at Kraus Marketing. Our efforts include content creation, strategy, and analytics tracking. We understand the importance of social media marketing and aim to elevate your brand awareness to new heights.